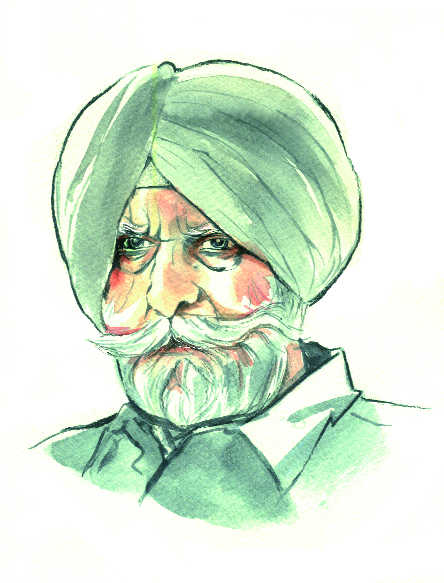 New Delhi, May 26
KPS Gill, the supercop credited with rooting out terrorism in Punjab with an iron hand, passed away today, succumbing to a kidney ailment at the age of 82.The IPS officer, who served as the Director General of Punjab Police twice during the peak of militancy, was considered an authority on dealing with security issues and even after his retirement, his services were utilised by the governments of Chhattisgarh and Gujarat.(Follow The Tribune on Facebook; and Twitter @thetribunechd)He had also served as the DGP in Assam and after his retirement, the benefit of his expertise was availed of even by Sri Lanka in 2000 during its fight against LTTE.The towering personality breathed his last at 2.55 pm at Sir Ganga Ram Hospital, where he was admitted on May 18. The cremation will take place at 4 pm here on Sunday.An outspoken and daring officer who led from the front, Gill headed Punjab Police from 1988 to 1990 and then again from 1991 until his retirement in 1995.Related: 
A major feather in his crown was commanding Operation Black Thunder in 1988 to flush out militants from Golden Temple. The operation was a huge success as little damage was caused to the holiest shrine of the Sikhs, compared to Operation Bluestar in 1984 carried out by the Army.During the fight against terrorism under Gill, the Punjab Police faced a number of allegations of human rights violations. After the 2002 Gujarat riots, he was appointed security adviser to the then CM Narendra Modi. Gill requested deployment of 1,000 riot police from Punjab.Gill also headed the Indian Hockey Federation for several years, which too was surrounded often by controversies. His career was tainted by charges of sexual harassment at a party in 1988 for which he was convicted in 1996. — PTI
Punjab CM condoles former DGP KPS Gill's death

Former Punjab DGP KPS Gill. File photo
Tribune News Service
Chandigarh, May 26
Punjab Chief Minister Capt Amarinder Singh on Friday offered his condolence on the death of former state DGP KPS Gill, recalling his invaluable contribution to bringing peace back to the state from the grip of militancy.The chief minister said Gill's role in restoring peace and stability to Punjab cannot be undermined or forgotten, and he continues to be emulated by police and security personnel around the country, as an example of how the most complex of problems can be resolved with grit and determination.Expressing his heartfelt sympathies for the bereaved family, the chief minister said his thoughts and prayers were with them in their hour of grief.State Health Minister Brahm Mohindra also expressed profound grief and sorrow over the sad demise of KPS Gill.In a condolence message, Mohindra said KPS Gill was a committed and decorated police officer who served twice as the Director General of Police in Punjab. He termed KPS Gill as an honest, brave, highly efficient and upright officer.
Gill rules out terror revival in state
Former DGP says Rajiv brought in Bhindranwale to counter Akalis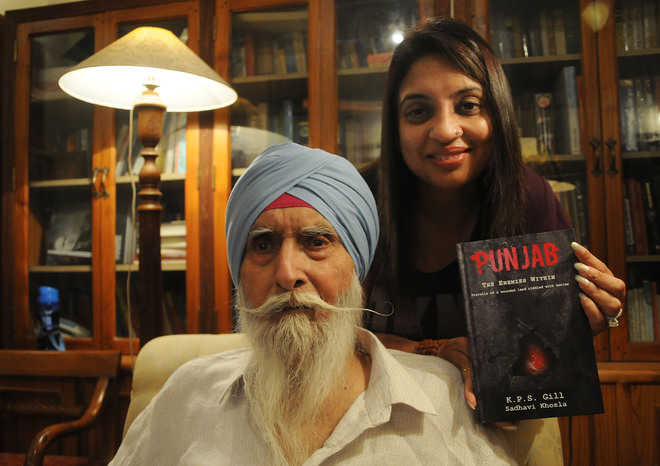 Ajay Banerjee
Tribune News Service
New Delhi, March 2
Former Punjab DGP KPS Gill said here today that Jarnail Singh Bhindranwale had been brought in by Rajiv Gandhi to counter the Akalis, even as he ruled out the revival of terrorism in the state.Gill, who served as the DGP from 1988 to 1990 and then from 1991 till his retirement in 1995, spoke to The Tribune on the eve of the release of his book, 'Punjab: The Enemies Within', co-authored with Sadhavi Khosla.The 1957-batch Assam-cadre IPS officer said the seeds of terrorism in the state had also been sown by the linguistic movement of the 1950s and 1960s, when efforts were made to promote Hindi as the dominant language by suppressing other languages.Commenting on former President General Pervez Musharraf's assertion that Pakistan could revive the Khalistan movement, Gill said: "Musharrraf will be proven wrong, just as he was mistaken in his assessment before the Kargil War (1999)." He also dismissed speculation that drug addicts in Punjab could be used as fidayeen (suicide bombers).Khosla, who hails from Patiala, said the book also addressed contemporary issues such as drugs, low farm productivity and lack of jobs. "Let's sort the problems collectively," said the author, who has made a documentary on Punjab's drug menace.
Indira was wrongly advised on Bluestar: KPS

Gill


Blames PMO, but takes no names in his biography

Gives clean chit to Army


Ajay Banerjee/TNS
New Delhi, October 31
More than 29 years after the controversial Operation Bluestar in June of 1984, Punjab's former Director General of Police Kanwar Pal Singh Gill has claimed that then Prime Minister Indira Gandhi would not have allowed the operation, but was wrongly advised to do so as it was presented as the only option by her advisors.
The operation – much criticised and scrutinised over nearly three decades — was to storm the Amritsar's Golden Temple with tanks of the Indian Army to flush out Sant Jarnail Singh Bhindranwale and his band of armed supporters.
The official biography of the supercop titled 'KPS Gill The Paramount Cop' released here tonight, also the death anniversary of Indira Gandhi, talks candidly of the role played by the 1957-batch Assam cadre IPS officer in tackling militancy in Punjab. Authored by Rahul Chandan, the 244-page book presents Gill's opinion of Indira Gandhi, Rajiv Gandhi and PV Narsimha Rao and has passing references to VP Singh and Chandrashekhar, all Prime Ministers during the dark days of militancy in Punjab.
On Operation Bluestar, the author quotes Gill as having said: "(It) was conducted in a hasty manner and without thinking what impact it would have on the hearts and minds of Sikhs." The book says Gill told his fellow officers: "Don't understand how Mrs Gandhi can order such an operation."
In what could be seen as a sort of clean-chit to Indira's decision to order the operation, Gill is quoted as having said: "As far as Operation Bluestar is concerned, I know as being a witness to the secular credentials of Mrs Gandhi, she would have never have let that happen had she been advised properly. Advisors of Mrs Gandhi were not guiding her properly and the problem at hand they told her was a mountain whereas it was only a small hill."
Gill, who was posted as IG BSF at Jammu in January 1984 and later posted as IG Punjab Armed Police in September that year, says Operation Bluestar can never be justified and blames the Prime Minister's Office for it, but stops short of naming anyone in the Indira-led PMO. "The Army, however, is not to blame for this botched-up operation; it was acting on the specific direction of the PMO and had been given little time to prepare."
The book says Operation Bluestar and the November 1984 Sikh massacres were the two most significant happenings for the cause of 'Khalistan' inflicted upon the nation by its own government. These two events in combination, gave a new lease of life to a movement, which could have easily been contained in 1984 itself, it says.
Giving reasons for militancy in Punjab, the book says: "One of the factors of militancy in Punjab was the high-level of complicity of New Delhi. Eager to consolidate its political hold over the state, the ruling party at the Centre (Congress) was prepared to ignore political violence."
Gill goes on to speak about Rajiv Gandhi and the conduct of Operation Black Thunder in 1988: "(Rajiv) He had a very good grasp of what was happening and how it should be tackled. He was personally very honest… If any of his decisions didn't go well, the fault lay with people who surrounded him."
The supercop also narrates how PV Narimsha Rao (1991-1996) gave him a "free hand" and how Punjab Chief Minister late Beant Singh was keen to tackle militancy.
The book also reveals the genesis of Gill's friendship with internal security ex-minister late Rajesh Pilot. Both were together in Shillong when Gill was a young IPS officer and Pilot was serving the Air Force as a fighter pilot. Pilot died in a road accident in 2000 and Gill retired from the IPS in 1995. 
L TO R–Late S. Albel SIngh Grewal,Media advisor to CM,KPS Gill,CM Beant Singh