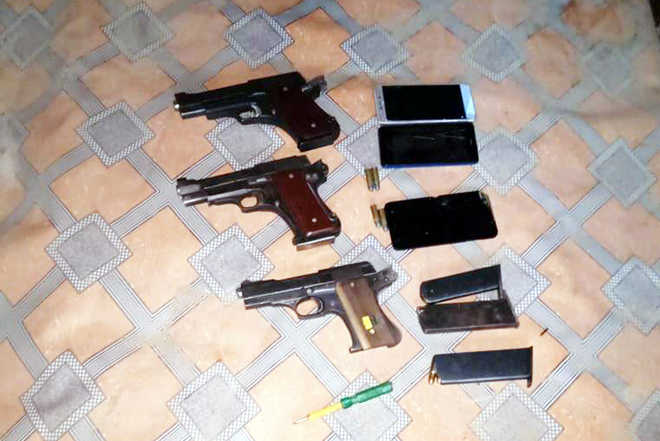 Abohar, September 18
Five members of a gang were nabbed with the help of villagers when they drove into the Mahajan field firing range of the Army on the Sriganganagar-Bikaner highway on Monday.
The police said the gangsters had escaped on September 13 after firing at the house of another gangster Sukha near Sikar. They were planning to go to Sriganganagar, but in a haste drove into the Army's field firing range. Realising their error, they reversed the car, which triggered suspicion. As an alarm was raised to intercept the car, villagers came out and assisted in nabbing the occupants. The car-borne gangsters have been identified as Mukesh and Hira Lal of Paproli, Anil of Katrathal, Shrawan Kumar of Bhairupura and Divesh Pareek of Sikar. Three unlicenced pistols, two magazines and some cartridges were seized.
Suratgarh DSP Lokender Dadarwal said a case under Sections 399 and 400 of the IPC and the Arms Act had been registered against them. Preliminary investigation indicated that they were allegedly involved in incidents of loot, burglaries, snatching besides attempt to murder. — OC