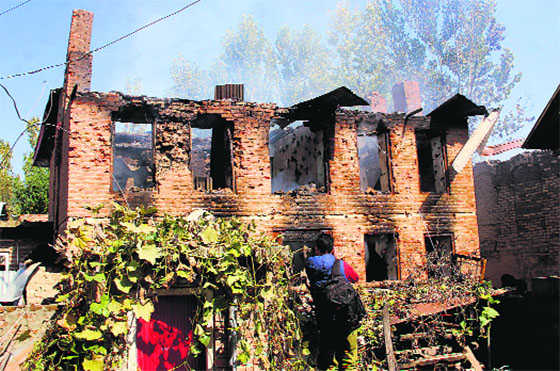 Suhail A Shah
Anantnag, October 21
Three militants and six civilians were killed in Laroo village of south Kashmir's Kulgam district on Sunday — the former in a gunbattle and the latter in a blast at the 'unsanitised' encounter site. Also, more than 20 persons were injured, a few
sustaining bullet and many pellet injuries as the security forces tried to disperse the protesters. 
The dead civilians were identified as Irshad Ahmad Padder, Zubair Ahmad Lone, Talib Maqbool Laway, Uzair Ahmad Dar, Aqib Ahmad Sheikh and Mansoor Ahmad Dar, all residents of villages in Kulgam district.
The militants who were gunned down, all members of Jaish-e-Muhammad, are Shahid-ul-Islam Tantray of Shopian, Yazil Makroo of Anantnag and Zubair Lone of Kulgam.
Police sources said a cordon and search operation was launched in Laroo village on the outskirts of Kulgam at about 2 am. "While searches were on, the militants at 3.30 am opened fire. The forces retaliated and a gunfight ensued that lasted till about 10 am. All three militants were neutralised."
As the forces began to evacuate the area after the encounter, hundreds of residents marched to the site. "A fire caused by explosives was still to be put off and the site yet to be sanitised," a source said.
An eyewitness claimed people were standing on the rubble of the house razed during the encounter when a deafening explosion took place, injuring seven. "They were rushed to the Kulgam district hospital where three of them were declared dead," a health official said. Two more succumbed at the SMHS Hospital in Srinagar and another at the SKIMS in Soura.
The locals blamed the security forces for the tragedy. A police source said the forces had to leave in a hurry because of incessant stone-pelting and, therefore, could not sanitise the site.
Inspector General of Police (IGP) SP Pani said the people had been warned to keep off, but paid no heed. Despite the authorities snapping mobile and Internet services, intense clashes erupted at the site and the forces fired pellets and bullets to disperse the protesters, leaving more than 20 injured.
Adviser to the Governor K Vijay Kumar and DGP Dilbag Singh expressed regret over the loss of lives and sent condolences to the bereaved families.
---
How events unfolded 
2 am: Cordon and Search Operation launched by forces following inputs on militants' presence 
3:25 am: Militants open indiscriminate fire on the forces from a house they were hiding in
4 am: Amid the gunfight, mobile and Internet services terminated in Kulgam district as a precaution
7 am: Locals assemble at the encounter site in large numbers, throw stones at forces, fired upon
9 am: Several blasts at the site as the security personnel try to flush out the holed-up militants
10 am: Militants are killed and 30 minutes later, the forces leave the site with the bodies and arms
10:50 am: A blast pierces through the area, leaving seven injured, six of whom succumb later
Shutdown today
Separatists in Kashmir valley have called for a strike on Monday over the death of civilians in a blast in Kulgam district. The strike has been called by the Joint Resistance Leadership (JRL).