Varinder Singh &
Archit Watts
Tribune News Service
Bathinda, January 11
A shoe was hurled at Punjab Chief Minister Parkash Singh Badal in his home constituency of Lambi today. Unfazed, the CM sought to downplay the incident, claiming that it only proved his opponents had "lost the game" and that they wanted to deflect the people's attention from the agenda of "peace and all-round development" that the SAD-BJP government had pursued vigorously over the past 10 years.The attacker, Gurbachan Singh of Jhurd Khera village near Abohar, was detained. He is the brother of Bhai Amrik Singh Ajnala, the "parallel jathedar" of Takht Sri Kesgarh Sahib. An agriculturist, Gurbachan is a registered voter at Rattakhera Chhota village, one of the two waterlogged villages that the CM adopted for development. A case under Sections 352, 353 and 186 of the IPC  has been registered. (Follow The Tribune on Facebook; and Twitter @thetribunechd)"Gurbachan Singh, who arrived on a motorcycle, threw a shoe at the CM," said Dhruman H Nimbale, SSP, Muktsar. Speaking over the phone, Bhai Amrik Singh said: "Gurbachan is my younger brother. I can't say whether he took the right step or not. But I do know the Sikh community is very angry over the government's failure to check incidents of desecration."Warning that certain elements wanted "to push Punjab's youth back into the jaws of bloodshed", a reference to the dark days of militancy, Badal termed the incident "an attempt to scuttle free, fair and peaceful elections".  "These people, like seasonal birds, appear only during elections. But I have stayed amid people every day of my life. Nothing will stop me from following the path shown by the Gurus, saints and seers. Our commitment to serve the people is too strong to be shaken by such acts," said an emotional Badal.
---
"Nothing will stop me from following the path shown by the great Gurus. Our commitment to serve the people is too strong to be shaken by such acts." —Parkash Singh Badal, CMNo matter what the provocation, hurling a shoe at someone is only condemnable. There can't be any justification for such incidents. — Manish Tewari, Congress Leader
ommunity is hurt with large number of desecration incidents.
Punjabi vs outsider rift post Sisodia's Kejri pitch
Says vote 'as if voting for Kejriwal as CM' at AAP rally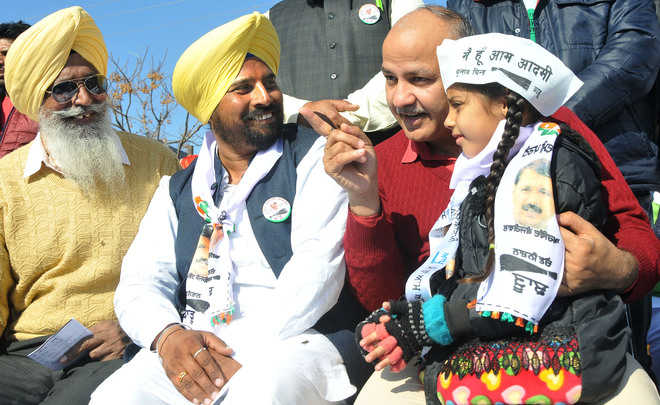 Jupinderjit Singh
Tribune News Service
Chandigarh, January 10
Delhi Deputy Chief Minister Manish Sisodia, on his first day of campaigning in Punjab, today reportedly urged people in Mohali and Anandpur Sahib to cast their ballot for the Aam Aadmi Party (AAP) "as if they are voting for Arvind Kejriwal  as Chief Minister", triggering a Punjabi versus "outsider" debate.While AAP's state leadership refused to elaborate, the SAD and Congress claimed there was a "conspiracy to anoint Kejriwal as Punjab CM through the back door". Atishi Marlena, AAP spokesperson in Delhi, said Sisodia's remarks had been twisted out of context. "He (Sisodia) said vote as if Kejriwal is going to be CM. He did not say Kejriwal will be CM," Marlena explained. A senior AAP leader claimed Sisodia had been misunderstood. "He sought votes in the name of Kejriwal  as he is the man behind the AAP movement." He refused to make an official statement. There has been much speculation on AAP's chief ministerial  candidate, with one of the aspirants, Bhagwant Mann (Sangrur MP) seeking people's backing for his claim to the top post at election rallies. However, Sanjay Singh, the party's political affairs incharge, says it will be up to the elected MLAs to chose their CM.Sisodia, who it is believed will take over as Delhi CM if Kejriwal moves to Punjab, told the media that Kejriwal alone could solve Punjab's problems, taking on the Centre till all demands were met.Dr DS Cheema, SAD spokesperson, and party's Delhi leader Manjinder Singh Sirsa claimed that by projecting Kejriwal as AAP's face in Punjab, the party leadership had accepted that  none of its state leaders were worthy of the CM's chair.Punjab Congress chief Capt Amarinder Singh said Sisodia's statement was no surprise as the Congress had all along maintained that Kejriwal had his eyes on Punjab. "It would be suicidal for Punjab if his nefarious design succeeds," he added.(With inputs by Kulwinder Sangha in Mohali and Arun Sharma  in Anandpur Sahib)QUOTESAAP's conspiracy to foist an outsider on Punjab is now out in the open. It has chosen a Haryanvi who has already bartered away interests of Punjab on SYL. —Sukhbir Singh Badal, sad chief and deputy CMIt is sheer manipulation of the electorate. Sisodia's statement makes it clear that Kejriwal is scheming to become Punjab CM. This is a mockery of the democratic process, and AAP will have to pay for it. —Preneet Kaur, Congress leaderIt may be an attempt to create a media hype around Kejriwal. But if they are serious, it will not only be disrespect to the people of Delhi, but also to the political acumen of Punjab and Punjabis.  —Dr Dharamvira Gandhi, patiala MP.
The Punjab poll vault
Pramod Kumar
Erosion of ideological support base and leadership deficit are evident
THE electoral din in Punjab is like the lunatic swing of a pendulum creating a wave of different parties within a short span. It has moved from the Congress sweep at the time of the coronation of Amarinder Singh as PPCC president in December 2015 to the AAP rampage in post-Maghi in January 2015, and now the whisper of the Akali-BJP for a hat. These are often accompanied by claims and counterclaims — the showcasing of performance and the promise of golden performance. It has liberated political parties from consistent political positions and ideological filters. Elections are being treated as events to be managed by professional managers without any ideology, commitment to pro-people politics with the sole aim to win. Besides anti-incumbency that provides a safe passage to parties without vision, the winnability criteria allow faceless politicians' entry into politics and incentivises the hopping from one party to another. As if parties are nothing, but dharamshalas without doors. Political leadership has been discredited, the political parties are poaching celebrities and oiling the slide of leaders from one party to another. Has the political culture and terrain of Punjab become an ideological freak or rudderless? The history and culture of Punjab does not support such generalisations. Punjab politics can be located in three evolved axes. One is a stunted identity assertion ranging from religious, communal and secular Punjabi identities. The second is a unique feature of majoritarian arrogance and minority persecution complex in both the main communities — the Hindus and Sikhs. The Sikhs are in a majority in Punjab and minority in India and the Hindus are in a minority in Punjab and a majority in India. The third axis is the intermeshed religio-caste categories as caste is not a category in itself for electoral mobilisations in Punjab.These axes lay down broad boundaries for the politics to function. Electoral alliances and coalitions have been formed with even diametrically opposed political parties. The Congress and the Akali Dal even merged in 1937, 1948 and 1956. Most Akalis who joined the Congress did not return to the Akali fold. Prominent among them were Pratap Singh Kairon, Swaran Singh, Baldev Singh, Bhai Mohan Singh, Darshan Singh Pheruman, and now Capt Amarinder Singh. The political culture of Punjab is, no doubt, competitive, but not conflictual. Apparently, in the post-Operation Bluestar and '84 riots period, the Congress faced opposition, but regained power in 2002. The lesson is that voters do not see parties as antagonistic, but competitive. Most people keep both a  blue turban (Akali symbol) and a white turban (Congress symbol) ready to wear as per the need. To hinge the whole campaign that the Congress and the Akalis are mixed up and then expect that people will vote for a third party may not bring corresponding results.The parties have not only merged with each other, but also formed coalitions. In reorganised Punjab, between 1967-1980, four post-election coalitions were formed between the Akali Dal and the Bharatiya Jana Sangh and in the post-terrorism phase the Akali Dal and the BJP formed three pre-election coalitions. In view of the lessons learnt from the decade of terrorism, the parties entered into pre-poll alliances. The Congress apologised for Operation Bluestar and the riots. And the competing parties gave representation to all existing fault lines of religion and caste rather than representing exclusive communal interests. The SAD, which has mainly been a party of Jat Sikh peasants, gave representation to Punjabi Hindus with 11 out of 94 SAD candidates for the 2012 polls. The BJP that largely represents urban Hindu traders gave representation to Sikhs. Similarly, the Congress made inroads into the SAD support base of rural Jat Sikhs by fielding an equal number of rural Jat Sikhs with the SAD. Dalits who constitute around 32 per cent of the population have been represented in all political formations. Of the 1,248 MLAs in the state from 1967 to 2012, Dalits constituted 25.16 per cent, OBCs 8.97 per cent and urban traders (Khatris) 22.12 per cent. But a majority of MLAs (43.74 per cent) came from the rural Jat peasantry.The 'uncertain religious allegiance' of the Dalits and in the absence of caste as a defining parameter for social position, Dalits found representation in all parties. Even the Jat-dominated SAD has had a higher representation of Dalits in six of the 11 Assembly elections and in the remaining five, the Congress had a greater Dalit legislators. It is interesting to note that Dalit legislators have been elected from parties other than the BSP and the Communist parties. Thus Punjab politics has shown signs of blurring religious and caste fault lines. To mobilise people as exclusive categories like Hindu Banias, or Scheduled Castes may not bring the desired results. Considering this background, which way will Punjab go? Will it go the AAP way? The AAP won a surprise victory with four seats and a 24 per cent vote share in the 2014 parliamentary elections. It had the advantage of anti-incumbency against the Congress at the Centre and the Akali Dal-BJP in the state. However, wherever people could find a formidable alternative to the Akali-BJP alliance, the AAP candidates were not selected. This can be inferred from the results of two constituencies — Bathinda from where Harsimrat Badal defeated Manpreet Badal, and in Amritsar where Amarinder Singh defeated BJP stalwart Arun Jaitley. The two Assembly byelections, in Patiala and Talwandi Sabu, showed that the AAP may not be able to consolidate its support. Unlike the Akali Dal and the Congress, the AAP does not have a historical baggage and therefore does not have a historical advantage either. Another AAP disadvantage is that unlike Delhi, Punjab does not have a large footloose population — as people have their culture and history. The Congress and the Akalis have a regional flavour to their advantage and the AAP is yet to evolve a regional identity of its own. The only advantage it has is an anti-drug and an anti-corruption stance. How far it will help to win is a moot question.The SAD's non-Panthic, development and governance reforms plank and the BJP's emergence at the national level have added a new flavour to the elections. How far will this alliance benefit from this and reversal of moral hegemony with demonetisation which brought Modi, Nitish Kumar and Navin Patnaik on one side and Arvind Kejriwal in the company of Mayawati and Lalu Yadav?Punjab needs a paradigm shift. In order to outcompete one another, all parties are raining sops rather than initiating a debate on policies to diversify economy, building a consensus against drug abuse, suggesting policies for productive engagement of youth and empowerment of women. This is symptomatic of an erosion of the ideological support base of parties, political leadership deficit and absence of a transformational agenda.The writer is the Director, Institute for Development and Communication, Chandigarh
Sukhbir from Fatehgarh Sahib also?

Surinder Bhardwaj
Fatehgarh Sahib, January 11Is Deputy CM Sukhbir Badal interested to contest from Fatehgarh Sahib apart from Jalalabad? The question gained currency following a remark by Sukhbir during his visit to the town last evening.The SAD president, addressing party activists, said, "Fatehgarh Sahib edda wadhia halka hai, kai baar mera jee karda ethon hi chon lar lawan. Ki lor enni dur jaan di? Main thonu sahi dasaan ethe Akali Dal di 80 per cent vote hai ate dujian partian di koi 20% hovegi (Fatehgarh Sahib is such a good constituency that I wish to contest from here sometimes. What's the need of contesting from a far-away segment? The Akali Dal has 80 per cent vote share here, while the rest of the parties 20 per cent)."A speculation is rife in the party circles that Sukhbir may also contest from here following SAD MP Sher Singh Ghubaya's son joining the Congress. Ghubaya has a considerable following in Jalalabad, from where Sukhbir had been elected a number of times. When asked whether or not he was serious on contesting from another seat as well, he clarified, "I will contest from there (Jalalabad) alone." But his remark declaring Fatehgarh Sahib a safe bet for the SAD have set tongues wagging.AAP's Jalalabad candidate Bhagwant Mann, who was here to canvass for his party nominee yesterday, said he knew that Sukhbir would contest from Fatehgarh Sahib. "Sukhbir will file papers five minutes before the deadline. I am keeping a watch. I will also file the nomination online from Fatehgarh Sahib at the same time," Mann said.