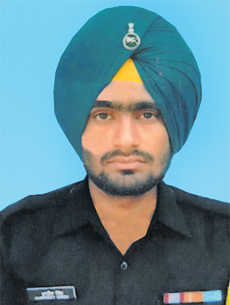 Kurukshetra/Jammu, Oct 29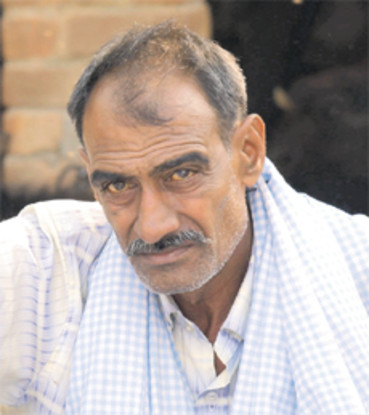 The barbaric incident at the Line of Control in Kashmir in which the body of an Army jawan was mutilated after being killed by terrorists, aided by the cover fire by Pakistan army, sparked an outrage today even as a pall of gloom descended on his native village in Haryana.Union Minister Jitendra Singh condemned the mutilation of the soldier's body as "atrocious", while senior Congress leader Manish Tewari called it "depraved behaviour".At Sepoy Mandeep Singh's Antehri village in Kurukshetra, his family demanded that Pakistan be taught a lesson for harbouring terrorists while former Army officers expressed their sadness. His brother Sandeep Singh demanded  10 Pakistani heads for the price of one.(Follow The Tribune on Facebook; and Twitter @thetribunechd)"These are acts of cowardice and are happening at a time of desperation on the part of the Pakistan army as well as Islamabad," minister Jitendra Singh said."I am very sad being a soldier. It is a very sad mentality to take your anger on an injured or dead person," said Maj Gen BC Khanduri (retd).Former Army Chief General JJ Singh (retd) said it reflected the "barbarism" of the Pakistan army. "India should tell the whole world what Pakistan is doing. Particularly with India, we honoured their fallen soldiers who they had abandoned. They should be grateful to us forever. How uncivilised they are…" he said. — Agencies
Army says 4 Pak posts destroyed in massive assault
SRINAGAR/NEW DELHI: The Army said on Saturday it destroyed four Pakistani posts in a "massive" assault across the Line of Control in north Kashmir's Kupwara district amid mounting tension over the mutilation of an Indian soldier's body by militants.
"Four Pakistani posts were destroyed in a massive fire assault in Keran sector," an army official said. Heavy casualties have been inflicted on the Pakistani side, he said, without elaborating. The Indian strike is seen as a retaliation to ceasefire violations by Pakistani troops in the Keran sector earlier in the day.
The de-facto border with Pakistan has remained tense since a militant attack on an army camp at Uri in Jammu and Kashmir in September left 19 soldiers dead. India retaliated by carrying out "surgical strikes" across the LoC to destroy several militant launch pads in Pakistanoccupied Kashmir. NEW DELHI: Amid continuing ceasefire violations by Pakistani troops along the LoC, home minister Rajnath Singh on Saturday assured the nation that security forces were giving "befitting reply" to firing from across the border and that the country will not bow down before anyone. "I want to assure the nation that the security forces are giving befitting reply to the firing from Pakistan. We will not bow down before anyone," he told reporters here.
JeM backed by Pak army may be behind jawan's mutilation
NEW DELHI: Intelligence agencies suspect Jaish-e-Mohammed (JeM) militants, backed by Pakistani Army, to be behind the killing and mutilation of 17 Sikh battalion sepoy Mandeep Singh at Machhil sector on Friday evening, even as high alert has been sounded along the Line of Control (LoC) for more BAT action by terrorists for the remaining of 2016.
Sepoy Singh of 53 Independent Brigade was part of a patrol that left its base in Machhil sector at 4pm on Friday and was ambushed around 7.45pm by the JeM terrorists with Pakistani army providing fire cover for nearly four hours, sources said.
The Pakistani army pounded Indian positions from 4pm and continued till 8pm to facilitate BAT action by JeM terrorists. A Pakistani terrorist was gunned down by the Indian forces in retaliation but his body has not been recovered.
Top government sources said some 250-300 terrorists of both JeM and largely Lashkar-e-Taiba (LeT) are waiting deep beyond the launching pads to infiltrate across the LoC.
Indian security establishment has discussed the possibility of a BAT action by Pakistani terrorists along the LoC after September 28-29 surgical strikes by Indian special forces in PakistanOccupied Kashmir (PoK).
Indian army chief Gen Dalbir Singh had alerted the Northern Command on the possibility of such action.
Post the surgical strikes, one army trooper, three BSF soldiers and three civilians have been killed in cross border and LoC firing and mortar shelling by Pakistani Army.
Nineteen personnel of the security forces and 41 civilians have been injured in the unprovoked firing and shelling that has affected more than 150 villages along the international border in Jammu.
The Pakistani focus on 125 Hindu-dominated villages in Jammu has killed one person and injured another nine from the minority community.
Home ministry reports indicate all the 101 BSF/army posts have been targeted by Pakistani army since September 28-29 with Uri and Machhil sector being pounded by enemy mortars since the surgical strikes. The Pakistani army is firing across the IB and LoC with heavy machine guns and 82-inch mortars to facilitate infiltration by pinning down Indian security forces.