War comics have had a late start in India and there still are tons of stories that need to be shared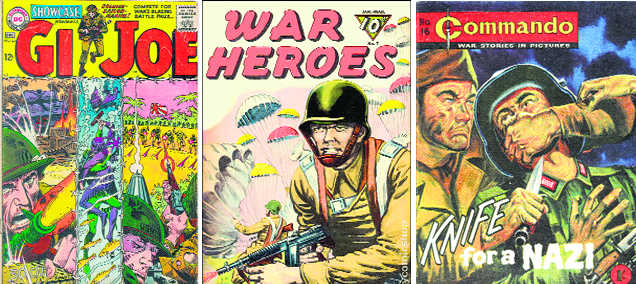 Rishi Kumar
Wars and war heroes have been glorified by people of all races, colour and creed throughout the ages. The war stories of gods and mortals have been known to humanity since time immemorial. However, the method of telling war stories has kept on evolving. In the beginning of the 20th century the concept of visual narration became more popular. As books became more accessible to more audience worldwide, pictures and texts intermingled to narrate a story. Subsequently, pictures became a dominant form of storytelling. Early part of the 20th century witnessed the World War I, followed by World War II. These two major historical events led to the genesis and popularity of the British and American war comics. The British with their Commando Comics and the Americans with Marvel Comics churned out fictional war stories in substantial number.
Indian comic books, however, had a delayed start as till the early 1950s there was hardly any illustrated depiction of war and strife and border conflict. This was despite the fact that Amar Chitra Katha & Indrajal comics were household names during this decade. Though there were some "war" stories in ACK, these were mainly from the epics and mythology. The void in war comic space in India was filled largely by Commando Comics during this time. Despite being British, the Commando series did mild justice to Indian characters by portraying them in its WWI, WWII stories. But the depiction was secondary as Indian war heroes were never the focus of the story.
Despite the success of Indian comic book industry in the 1960s, there are hardly any comic books on the stories of Indian armed forces of post or pre-Independence era. In the late 1960s, there was an attempt by Indrajal Comics to showcase Indian war stories, though these were only fictional. These barely made an impact.
It will, thus, not be an exaggeration to claim that Indian war comics are a 21st century phenomenon. Technically, it was in 2008 that India's first-ever comic book on a war hero was published. Based on the story of the legendary Captain Vikram Batra, it was published by Aditya Bakshi, son of Maj Gen G.D.Bakshi (retd). Then in 2012, a comic book depicting the Siachen conflict was published by AAN Comics. As many as 30 titles have been published so far in this series. Following the success of these two companies, comic-book giant Amar Chitra Katha, too, jumped onto the war comics bandwagon. It came out with a digest on 21 Param Vir Chakra awardees in 2015.
Another Indian publishing giant, Roli Books, has also come out with the Param Vir Chakra series and stories of 10 war heroes have been published since 2013. Roli Books has teamed up with Maj Gen Ian Cardozo (retd). Other major publishers like Bloomsbury also came out with comic books on World War I, in 2014 to commemorate the 100 years of the Great War (1914-1918). Companies like Campfire came out with WWI & WWII series in 2014-2016. They have partly focused on Indian characters with the limelight mostly on "the British".
India has a huge repertoire of heroism of its officers and jawans and tons of stories are waiting to be told. Besides the untold stories from the five wars that the country has faced till now, the contribution of the Indian National Army heroes and heroes who fight domestic insurgency and terrorism need to be shared. ACK brought out a comic book on Netaji Subhash Chandra Bose based on WWII depicting the role of the INA and its founder. The rising popularity of war comics in the past few years has made the government come out with stories of ParamVir Chakra awardees published by the National Book Trust. The then Army Chief Gen Dalbir Singh Suhaag and Smriti Irani, HRD minster had launched the books. The action comics 'fever' has gripped CRPF as well as it came out with its own Veergatha in 2017.
One must note that though the war comic format in India is similar to the one adopted in Commando Comics, but there is a significant difference.  Commando Comics were based on real life events with fictional characters, but Indian war comics are based on real life characters and events. They are a part of our history. So, there is something to be proud of after all and the Indian war comics scene will keep moving towards better times.
The writer is founder Aan Comics