Capt Vikram Batra sacrificed his life during Kargil War fighting Pak intruders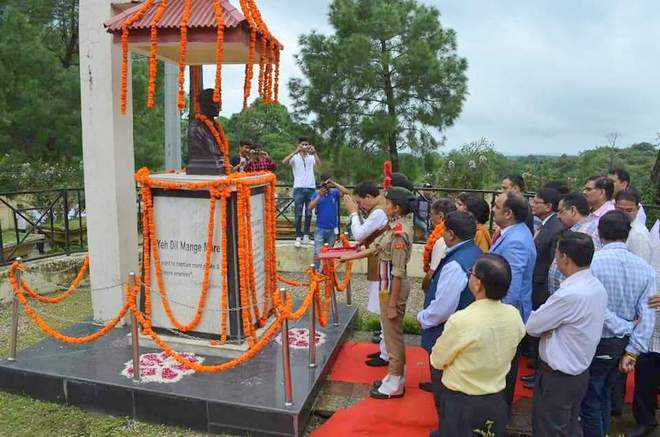 Health Minister Vipin Singh Parmar unveils the statue of Capt Vikram Batra in Palampur.
Ravinder Sood
Palampur September 10
Health Minister Vipin Singh Parmar unveiled the statue of Captain Vikram Batra, PVC, on the occasion of his birth anniversary on the premises of Shaheed Captain Vikram Batra Degree College here on Monday. Captain Batra had sacrificed his life during the Kargil War while fighting intruders from Pakistan.
Speaking on the occasion, the Health Minister said he was fortunate to be in the institution named in the memory of the great solider, who had sacrificed his life at a the age of 20 for the unity and integrity of the country.
"It has been more than 18 years since then, but the unparalleled sacrifice and courage of Kargil heroes are still etched in the memory of the Indians and Vikram Batra is among those who will become the face of every Indian solider, who will fight fearlessly", said Parmar.
Parmar said Captain Vikram Batra had left a message for every politician, student, employee and the common man. His message was loud and clear, "Always put the country first". Had he wanted to come back after the triumph over Point 5140 in the Kargil sector, he could have, but he decided to go further and capture Point 4875, where he eventually attained martyrdom.
Speaking on the occasion, Girdhari Lal Batra, the martyr's father, said Vikram left his job in the Merchant Navy only to serve his country. After his son attained martyrdom, he interacted with many soldiers, who had participated in the Kargil War. They told him how Vikram received bullets on his chest and head while saving the life of an injured soldier.
"He was always keen to accept challenges. He always wanted to be in the forefront. I still remember several instances of my son's life when he volunteered to be posted on the frontline", said Kamal Kant Batra, the martyr's mother.
Earlier, the Health Minister Vipin Singh Parmar presided over an annual prize distribution function of the college. He said the state government had planned to spend Rs 7,044 crore to strengthen the education system. He asked the students not to take to drugs, which had become a matter of serious concern. Later, he also inaugurated a basket ball court in the college complex.