SECURING FORCES Study talks of at least 50 gaps, points out proper fuel storage could have lowered toll in the 2016 Uri terror attack that claimed 19 lives
NEW DELHI: At a time when military is increasingly coming under attack in Jammu and Kashmir, an army report has pointed out at least 50 gaps — ranging from body armour, night-vision gear to flawed fuel storage — that pose a threat to soldiers' lives.
AP PHOTOA soldier takes position outside a General Reserve Engineering Force camp in Akhnoor sector, near Jammu, on Monday.
If the army doesn't make fuel storage safer at its forward bases, it could risk the lives of thousands of soldiers.
Militant strikes can cause greater damage not because of their sophistication but because tens of thousands of litres of fuel is being stored in make-shift shelters, says the document.
"The enormity of the problem can be gauged from the aftermath of the recent terrorist action on the FOL (fuel, oil and lubricants) dump at Uri," says the report on Future Core Technologies and Problem Statements.
Nineteen soldiers were killed when suspected Pakistani militants struck at an army base in Uri in September. Fourteen of the troops were burnt alive as their tents were pitched next to a fuel dump. The attack, one of the worst against the army in the border state, forced a rethink on fuel storage. The army design bureau (ADB), inaugurated last August, has identified FOL storage in forward bases as one of the 50 problems that need to be resolved swiftly. An initiative of the Modi government, the ADB has been tasked with promoting research and development and act as a bridge between the force and the private sector to meet the army's requirements. The ADB has stressed on the need for smart vests for soldiers with built-in codes for identification, sniper scopes to engage targets with greater precision and robots to carry equipment in high-altitude areas, including Siachen glacier. The document, published by the CII, says "vintage barrels and jerrycans" used for storage and transportation of fuel are vulnerable, increasing the "scope for collateral damage". Make-shift fuel storage facilities are susceptible to enemy shelling and fire hazards, too.
The army has sought the help of academia and the industry to develop alternative mechanisms for storage.
BSF jawan at LoC alleges bad quality food; inquiry ordered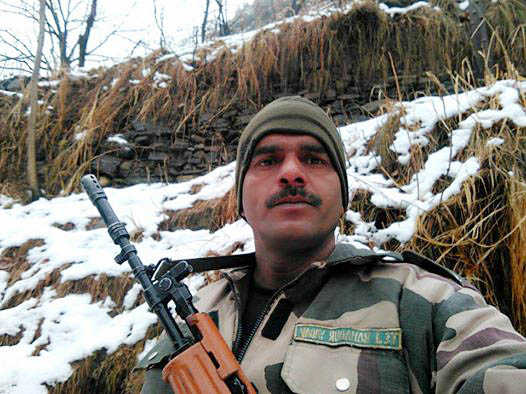 New Delhi, January 9A BSF jawan, deployed along the Indo-Pakistan border in Jammu and Kashmir, has alleged that troops are served bad quality food and even have to go "empty stomach" at times, prompting the border guarding force to initiate an inquiry.(Follow The Tribune on Facebook; and Twitter @thetribunechd)In videos uploaded on social media platforms, the jawan, wearing camouflage uniform and carrying a rifle, claimed that while government procures essentials for them, the high-ups and officers "sell it off" in an "illegal" manner in the market.In at least three different videos clocking over 4 minutes released online, constable T B Yadav (40) of BSF's 29th battalion also goes on to show the food that is allegedly being served to him.(Video courtesy: Tez Bahadur Yadav's Facebook account) 
"We only get a 'parantha' and tea as breakfast and this is without any pickle or vegetables… we slog for 11 hours and at times we have to stand throughout the duty hours. For lunch, we get 'dal' (pulses) which only has 'haldi' (turmeric) and salt… with roti. This is the quality of the food we get… how can a jawan do his duty?"I request the Prime Minister to get this probed… no one shows our plight," Yadav alleged.
He said he "may not be here" hinting action might be taken against him and urged people to take the issue forward so that corrective action is taken.He further alleged that at times jawans have to go to sleep "empty stomach".
The Border Security Force took cognisance of the video and tweeted from its official handle that an inquiry has been ordered."BSF is highly sensitive to the welfare of tps(troops). Individual aberrations, if any, are enquired into. A senior officer has already rchd (reached) the location," the force tweeted after tagging the video.
A senior BSF official said Yadav is currently deployed along the Line of Control in J&K and the BSF jawans here work under the operational command of the army which also provides for "food and other logistics of the jawans".It has also been found, the official said, that Yadav has been given four major punishments in the past and has been issued reprimands for alleged violation of discipline."However, the force has already ordered for a full investigation into the allegations made by Yadav who joined the force in 1996," the official said, adding the jawan has also applied for voluntary retirement. — PTI