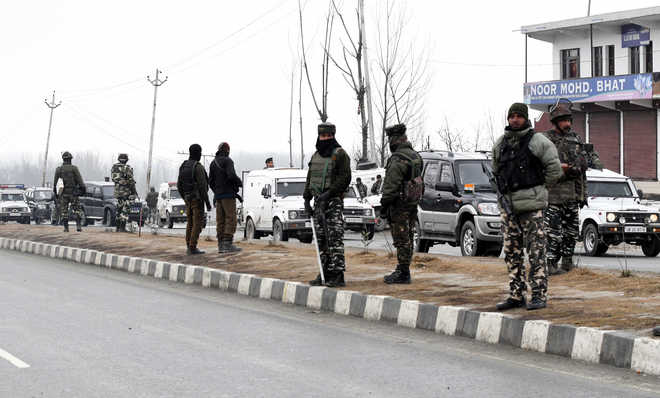 Majid Jahangir
Tribune News Service
Srinagar, February 16
Investigators in the deadly suicide bombing on a Central Reserve Police Force (CRPF) convoy suspect a cross-border link to the explosives used in the attack and have found that the vehicle used in the blast was a Maruti Suzuki Eeco van and not an SUV.
Top sources privy to the preliminary investigations said the explosive used in the blast was mainly RDX that may have been smuggled from Pakistan.
"There are initial leads that suggest that the RDX used in the blast came from across the border in Kathua district. We are working on the leads," they said. 
The sources said over 100 kg of RDX may have been used in the attack which caused the highest number of fatalities in a single militant attack in J&K since the eruption of militancy. In all, 40 CRPF men were killed when a lone suicide bomber of the Jaish-e-Mohammad rammed his vehicle into the CRPF convoy at Lethpora on the Srinagar-Jammu highway.
"It has also been established that the vehicle used was a Maruti Suzuki Eeco van. We are yet to find out the owner of the van. The RDX-laden van may have come through a link road and later joined the convoy before hitting it," the sources said.
The J&K Police have rounded up some men for questioning and are trying to zero in on the overground workers of the Jaish-e-Mohammad who may have helped in carrying out the attack.
A National Investigation Agency (NIA) team along with forensic experts collected materials at the blast site for evaluation for the second consecutive day.
"The findings will be revealed after the analysis of the material," an NIA official said.
Maruti van used in Pulwama attack
Top sources privy to the preliminary investigations said the explosive used in the blast was mainly RDX that may have been smuggled from Pakistan
Investigators have found that the vehicle used in the blast was a Maruti Suzuki Eeco van and not an SUV
A National Investigation Agency team along with forensic experts collected materials at the blast site for evaluation for the second consecutive day