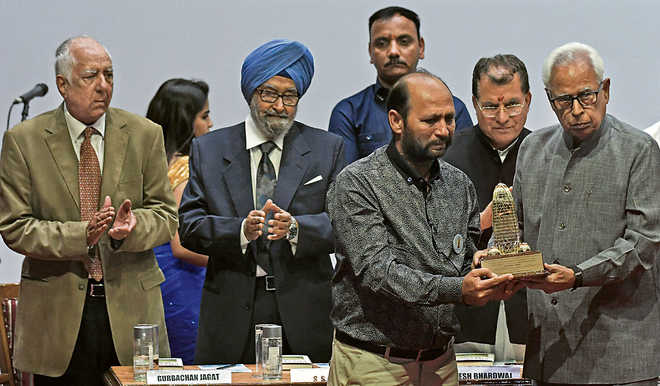 Martyr Amin Chand
Rajender Sharma, great-grandson of martyr Haqim Amin Chand, is a businessman in Amritsar. Amin Chand hailed from Murad Pura Hakima Wala, a village inhabited by physicians of Maharaja Ranjit Singh. On April 13, 1919, Amin Chand left for Jallianwala Bagh, all decked up in black clothes as a mark of protest. He was at the forefront of the resistance and the following  day, when his body was found, it was so badly riddled with bullets that the last rites were performed by NGO Sewa Samiti in the city only instead of being taken to the village.
Martyr Hari Ram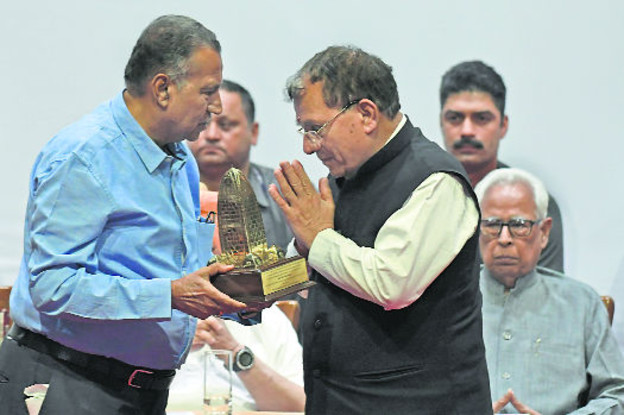 HP Minister Suresh Bhardwaj honours Mahesh Behal.
Mahesh Behal, grandson of martyr Hari Ram, heads the Jallianwala Bagh Shaheed Parivar Samiti. When the Rowlatt Act was introduced, Hari Ram, a petition writer, would often tell people how dangerous the legislation was. A close associate of Pt MM Malviya, he was active in the freedom movement.  
Martyr Wasoo Mal of Amritsar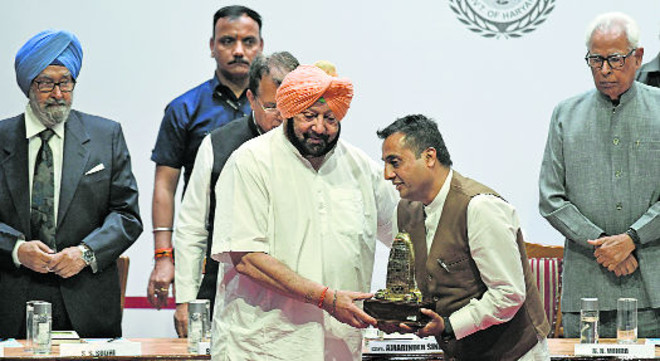 Capt Amarinder Singh honours Sunil Kapoor, great-grandson of martyr Wasoo Mal.
Sunil Kapoor, great-grandson of martyr Wasoo Mal, runs a textiles business in Amritsar's old market. He is trying to keep the families of martyrs together through the Jallianwala Bagh Freedom Fighters Foundation. Lala Wasoo Mal Kapoor was a prominent cloth merchant of Karmon Deori area of Amritsar and liberally funded activities of freedom fighters. He was hit by two bullets at Jallianwala Bagh and six days later at the age of 45, he succumbed to his injuries at Civil Hospital, Amritsar.
Build grand memorial to martyrs: HP minister
Naina Mishra
Tribune News Service
Chandigarh, April 13
Himachal Pradesh Education Minister Suresh Bhardwaj today urged Punjab Chief Minister Capt Amarinder Singh to build a grand memorial in the memory of civilians massacred at Jallianwala Bagh.
Speaking during the event, Bhardwaj said: "Last year, I went to Jallianwala Bagh and was saddened to see the memorial built there. We have not been able to build a memorial that would give justice and depict the martyrs' sacrifices."
"The Jallianwala Bagh massacre will be remembered till eternity as it marked the beginning of the freedom struggle of India," he said. While condemning the Rowlatt Act, he said, "The Rowlatt Act was a black Act that aimed at suppressing political leaders' voice and permitting imprisonment of suspects without trial."
"It can also be described as the first-ever law that targeted press freedom after the 'Emergency' period, which also crippled our fundamental rights. The Act was censured by the revolutionaries of that time."
Bhardwaj said the way "our unarmed men were fired at on the orders of General Dyer cannot be forgotten. It was a deadly massacre of thousands of civilians who had gathered peacefully at Jallianwala Bagh".
The Himachal Minister said his state had always "stayed upfront at the service of the nation and our soldiers at the border were rendering selfless service for the country".