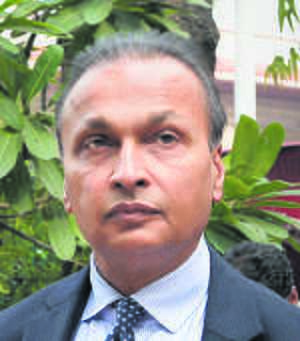 Tribune News Service
New Delhi, April 13
The controversy over the purchase of 36 Rafale fighter jets from France has taken a new turn following an article published in French daily claimed that Anil Ambani's France-based company (not the same dealing with Dassault Aviation) was given a tax waiver of 143.7 million euros (over Rs 1,100 crore).
The waiver came in October 2015, six months after PM Narendra Modi announced the Rafale deal in April 2015,  Le Monde reported. Anil Ambani's Reliance Defence is an offset partner of Dassault in the Rafale deal. Reacting to the report by the French daily, Reliance Communications said the tax demands were completely unsustainable and illegal, and denied any "favouritism or gain from settlement". 
The Ministry of Defence (MoD) said the period of tax concession did not relate "even remotely" to the Rafale deal.
Anil Ambani's France-based  'Reliance Flag Atlantic France' deals in under-sea cabling which carries telephone and internet traffic. French tax authorities, after a probe, found the company liable to pay 60 million euros in taxes for the period between 2007 and 2010. Reliance offered to pay 7.6 million euros as a settlement. 
This offer was turned down, and the French authorities conducted a fresh probe from 2010 to 2012 and levied an additional 91 million euros, Le Monde reported.
However, six months after the Rafale announcement, the French tax authorities accepted 7.3 million euros from the company as a settlement, the daily reported.
"France has cancelled a tax recovery of a total amount of 143.7 million euros, yet claimed for years, in favour of a French company belonging to Reliance Communications," it reported. The French daily cited an auditor's report of January 30, 2015, saying Reliance Flag Atlantic France is subject to two tax adjustments. It claimed that the parent company of the French company of Anil Ambani, Reliance Globalcom Ltd, is domiciled in Bermuda, which is on the blacklist of tax havens in the EU. In a statement, Reliance Communications said: "Reliance Flag settled tax disputes as per legal framework available to all companies operating in France."
The MoD said: "Any connections drawn between the tax issue and the Rafale matter is totally inaccurate and a mischievous attempt to disinform… neither the period of the tax concession nor the subject matter of the concession relate even remotely to the Rafale deal concluded during the tenure of the present government."
No political interference: France
France has clarified a global settlement was reached between the French tax authorities and Reliance Flag, and that it was not subject to any political interference
"The settlement was conducted in full adherence with the legislative framework governing this common practice of the tax administration," the French embassy said
It's Modi's kripa: Cong
"This is called zero sum choices, startling tax concession and Modi 'kripa'… PM Modi is acting as middleman for Anil Ambani… It is clear only one watchman is the thief." —Randeep Surjewala, Cong spokesperso