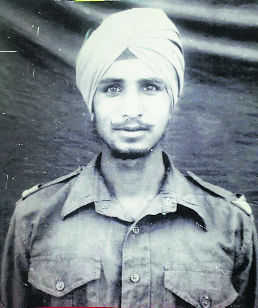 Parvesh Sharma
Tribune News Service
Barnala, March 13
Family members of a Prisoner of War (PoW) lodged in a Pakistan Jail on Tuesday wrote a letter to the President, seeking his help to take up the matter with the Pakistan authorities. At present, there are 55 PoWs from India lodged in various jails of Pakistan.
"Maha Singh from Karmgarh village, son of Sepoy Lal Singh, has never seen his father after the 1965 war with Pakistan. After that, he had gone missing. Initially, the family thought that he had died, but in August 2013, Satish Kumar, a resident of Ferozepur, informed them that his father was in the Kila Attack Frontier Jail. Satish has spent 12 years in a Pakistan jail. On Tuesday, family members and we wrote a letter the President with all details and requested him to take up the matter with Pakistan for the release of all 53 PoWs" said, Gurjinder Singh Sidhu, state chief of the ex-servicemen wing of the SAD.
Maha Singh has also served in the Army and retired as a Head Constable in 2001.  
"My mother has struggled a lot in her life. I was born in 1966 and whenever we came to know about any news of PoWs, we always try to get any information about my father. But nothing positive has happened. The release of Wing Commander Abhinandan Varthaman has again revived our hopes. Hopefully, after the forthcoming elections, the new Indian Government will take up the matter with the Pakistan government," he added.
Maha Singh added that he, along with some other relatives of PoWs, has filed a petition in the Punjab and Haryana High Court, seeking its intervention for the release of PoWs. The next date of hearing is in April, he said.
"We have all required evidence to prove that our relatives are lodged in different jails of Pakistan. In the coming hearings, we will share all evidences," he said.