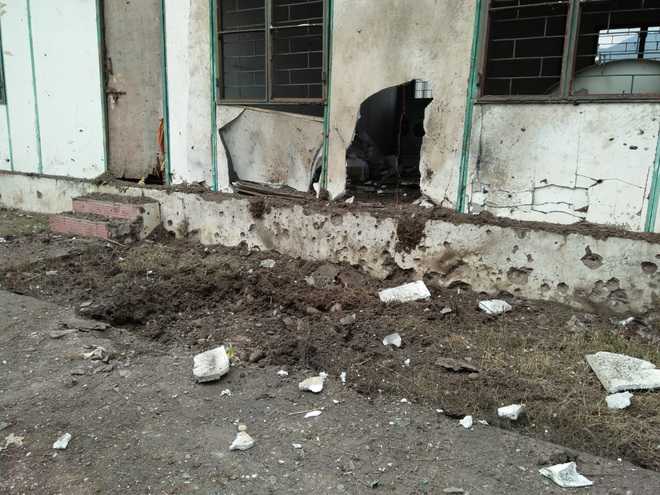 Shyam Sood
Rajouri, March 13
The Pakistan army resorted to unprovoked shelling on Wednesday afternoon, causing huge damage to the trade facilitation centre at Chakan da Bagh cross-LoC point in Poonch district.
Trade centre employees, security personnel and drivers from Pakistan-occupied Kashmir (PoK) had a narrow escape.
Meanwhile, the trade centre authorities suspended the business till further orders as the X-ray room along with the old and new sheds were damaged badly.
"The shelling started around 1 pm when the cross-LoC trade was in progress between Poonch and Rawlakot. Two shells fell on the trade centre while two others landed in its vicinity, forcing the people to take shelter at safer places, including bunkers," said Fareed Kohli, custodian, trade facilitation centre.
"The X-ray room along with the electric wiring in the old and new sheds have been damaged and it's not feasible to carry out the routine work under such tense situation. So, we have decided to suspend the trade till the situation becomes normal or till further orders."
Kohli, however, said 31 trucks from Pakistan-occupied Kashmirthat reached the immigration centre would be sent back at the earliest.
"Pakistan resorted to unprovoked heavy shelling in the afternoon when the cross-LoC trade was in progress. The shelling started immediately after 35 trucks crossed the LoC while 31 trucks from PoK reached the immigration centre. No injury or loss of life has been reported," said Ramesh Kumar Angral, SSP.
"The Pakistan army resorted to unprovoked ceasefire violation for two hours till 12.30 pm in the Krishna Ghati sector and again around 1 pm in the Chakan da Bagh area of Poonch district. The Army retaliated strongly," said Lt Col Davender Anand, PRO, Defence.
---
Fighter jets fly close to border 
Jammu: An air alert was sounded along the International Border and the Line of Control (LoC) on Wednesday after Pakistani fighter jets were detected close to the LoC. Defence Ministry sources said the Indian air defence systems detected the Pakistani jets 10 km inside the LoC on the Pakistan side in Poonch. "This is the first time after the Indian Air Force scrambled to push back Pakistani fighter jets, which entered our air space in the Nowshera sector on February 27, that Pakistani fighter jets flew this close to the LoC," said an official. ians