Whims and fancies of people in power, vote-bank pressures and a loose 'discretionary' clause can imbalance protocol-based events, resulting in controversies and debates. While honours accorded to well-known personalities have generally not been objected to, what has vexed people is the draping of Tricolour over bodies of some of the departed.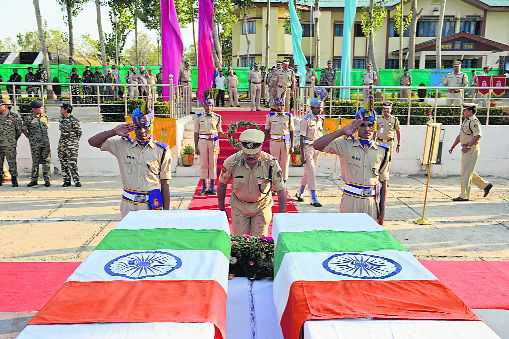 Lt Gen SR Ghosh (Retd)
Former GOC-in-C, Western Command
RAMAKANT Achrekar, a cricket coach known for having nurtured Sachin Tendulkar and Vinod Kambli, passed away recently. However, even before the embers had cooled, a controversy flared up about a 'state funeral' not being accorded to him. The Maharashtra Government had to go into overdrive and apologise for the 'omission'.
Such controversies have erupted several times. In 2017, the Karnataka Government was slammed for according a state funeral with a 21-gun salute to Gauri Lankesh, a journalist known for her support to Naxals and views on right-wing Hindu extremism. The administration claimed that the gun salute was given as "a mark of respect for her selfless service and not for ideological reasons". Another recent case was that of Sridevi, who was given full state honours at her funeral under the Chief Minister's discretionary powers for being an "eminent personality who has done public service". A third case is that of Sarabjit Singh, convicted of spying and subsequently killed in a Pakistani jail in 2013, for whom the Punjab Government ordered three-day mourning and a state funeral.
It is these powers of discretion that give rise to controversies and hype among the public. Over the past several years, state funerals under the discretionary powers have been given to several other personalities, including Rajesh Khanna, ex-cricketer Ajit Wadekar, journalist Muzaffar Hussain, Mother Teresa, Sathya Sai Baba, singer Gangubai Hangal, BJP leader Pramod Mahajan, who held no ministerial position when he lost his life, and Dada JP Vaswani. It is strange that Bollywood star Shashi Kapoor was also given a state funeral, complete with a three-gun salute by the police, while legendary thespian Raj Kapoor had been accorded none of these honours. 
However, nothing can be as glaring as the difference in the treatment meted out to two giants of the Armed Forces. In September 2017, Marshal of the Indian Air Force Arjan Singh was cremated in Delhi with full state honours. The Tricolour was flown at half mast and both the President and the Prime Minister paid tributes at his residence, where the body lay in state. The funeral was attended by top political leaders, including Manmohan Singh and LK Advani, the Raksha Mantri (Defence Minister) and the three Service Chiefs. A 17-gun salute, a fly-past by three Sukhoi fighters and helicopters carrying the IAF colours were part of the honours accorded to the 'Air Warrior'.
Compare this with the shocking treatment meted out to India's most iconic soldier, Field Marshal SHFJ Manekshaw, the Chief of the Indian Army which liberated Bangladesh in 1971 and captured over 90,000 Pakistani prisoners of war. Sam passed away in June 2008 at Wellington, Tamil Nadu. However, for reasons unknown, the Indian Government appeared to deliberately downplay the state honours that this great soldier so richly deserved. In any other country, such a funeral would have been attended by the highest officials of the nation. However, here no national mourning was declared and not one among our constitutional and central political leadership, including the Defence Minister, found time to attend his cremation. Nor did the Governor or Chief Minister of Tamil Nadu. The sole representative of the government was the Minister of State for Defence. Even the Air Force and Navy Chiefs did not attend the funeral and instead chose to send two-star-ranked officers.
All these cases exemplify how politics, whims and fancies of people in power, vote-bank pressures and a loose 'discretionary' clause can imbalance such protocol-based events, resulting in avoidable controversies and debates. While honours accorded to well-known personalities have generally not been objected to, the two main issues that have, however, vexed the people are the draping of the Tricolour over the bodies of some of the departed and the rendering of gun salutes to them.
A 'state mourning' was initially reserved only for the President, Prime Minister and former Presidents, while Governors were added to the list for 'state funerals'. However, this came with a clause that in the case of other dignitaries, the Centre could issue special instructions or order a state funeral. Thus, over the years, rules have been relaxed or overlooked on several occasions to accommodate some personalities. There is, therefore, a need to review existing instructions and streamline and standardise these to ensure uniformity and transparency across the country.
Some recommendations are: 'National mourning' and a 'national funeral' should be authorised only for the President, Vice President, Prime Minister and former Presidents. These dignitaries would be entitled to most of the existing protocols, including a 21-gun salute by the military and a recommended four-day period of mourning during which the Tricolour would fly at half mast. Based on a Fifth Pay Commission recommendation in 1997, the government had notified that a public holiday would be declared only in the event of the death of the incumbent President and Prime Minister. It is now recommended that this practice be abolished in totality.
'State funerals' should be reserved for former Vice Presidents and Prime Ministers, sitting Cabinet ministers, Governors, Lieutenant Governors, Speaker of the Lok Sabha, Chief Justice of the Supreme Court, Chief Ministers and Bharat Ratna awardees. The Honour Guard at such funerals should be drawn from the state police or the Central Armed Police Forces, which would fire three volleys by seven riflemen. Bodies would be draped in the Tricolour, but there would be no lowering of the National Flag.
State funerals with full military honours, including the 17-gun salute, should be accorded to Field Marshals/Marshals of the Air Force/Admirals of the Seas and all Param Vir Chakra/Ashok Chakra awardees.
All other prominent citizens of great stature could be accorded a 'ceremonial funeral' at the discretion of the Central or state governments. A ceremonial funeral should also be authorised for former Union Cabinet ministers or equivalent former government dignitaries.
Such a funeral would basically entail logistical and security arrangements by the government, provision of a police escort and attendance by appropriate elected/government dignitaries. Bodies of such departed citizens would neither be draped in the Tricolour nor would rifle volleys be fired.
National mourning with flags lowered to half mast throughout the country should be proclaimed if the nation goes through any major calamity or natural disaster resulting in large-scale loss of lives.