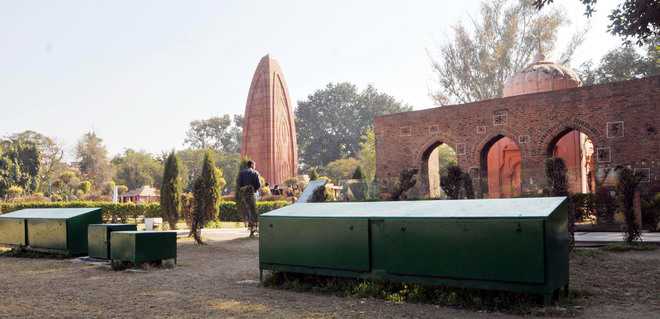 GS Paul
Tribune News Service
Amritsar, January 9
The visitors to the holy city will soon be able to watch an almost identical Retreat ceremony performed at the Wagah border by BSF jawans in the Jallianwala Bagh complex.
It is a part of Union government's plan to mark the centenary year of the Jallianwala Bagh massacre in April.
Rajya Sabha MP Shwait Malik, who is also one of the trustees of the Jallianwala Bagh National Memorial Trust, said the dialogue with top officers of the BSF was underway to start "Retreat" parade at the historic site as a tribute to the martyrs.
"This parade will be held every evening at a suitable place near Amar Jyoti to pay homage to the martyrs. The Director General of the BSF has been taken in loop to work on the modalities to execute it ahead of the centenary year of the massacre. Besides this, year-long programmes, including seminars and speech contest, are on the card," he said.
The Union government has also planned to give a major facelift to the historic site, which is most frequented by visitors after the Golden Temple in Amritsar.
Keeping in view the significance of the place, a blueprint of the development plan has been passed during a meeting held at New Delhi. The meeting was chaired by Union Culture Minister Mahesh Sharma and attended by MP Shwait Malik, former MP Tarlochan Singh, Director of Archaeology Department Usha Sharma and Regional Head, Archeology Department, Zulfikar Ali. The upgrade and development planning has been awarded to Union Culture Ministry's architect Vandana Raj.
The Jallianwala Bagh National Memorial Trust runs under the chairmanship of the Prime Minister.
It has been unanimously agreed to spruce up the bagh while preserving its originality. The passage through which British General Reginald Edward Dyer had entered with his troops will be made lively by painting relevant sequence of the episode on the walls of the original narrow lane and sculptures placed on the exact spot from where Gen Dyer had ordered indiscriminate firing on the innocent crowd on April 13, 1919.
Another move is that the 'light and sound equipment', which has been lying defunct for the past four years, will be made functional. The show will be in three languages — English, Hindi and Punjabi.
The grille-mesh-covered well, known as 'Martyrs well', which stands as live proof to the brutal killings when hundreds of people had jumped into it in panic, too, will see a change. Preserving its originality, a dome-shaped unbreakable glass or transparent fibre canopy will be placed over its outer area having approximately 20-ft diameter. It will offer clear glimpse of the well. The gunshot marks and the outer walls of houses surrounding the bagh will be preserved.
A 10-minute documentary 3-D show will be presented. The visiting timings, too, will be increased, at least till 9 pm. The bagh will be beautified with decorative musical fountains, plantation and lights.