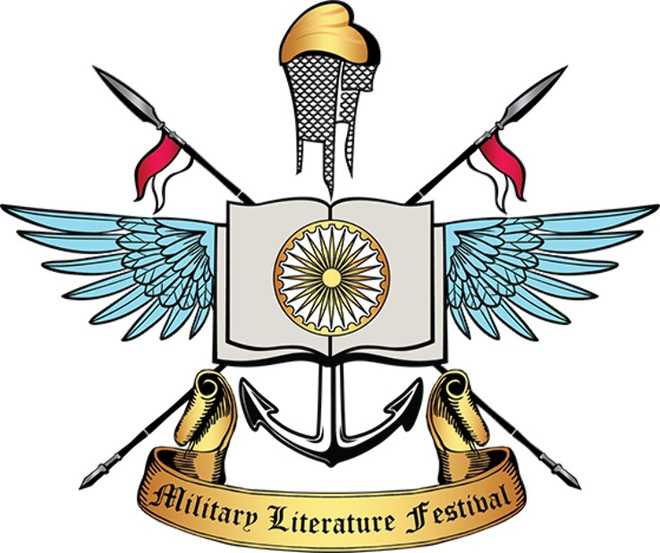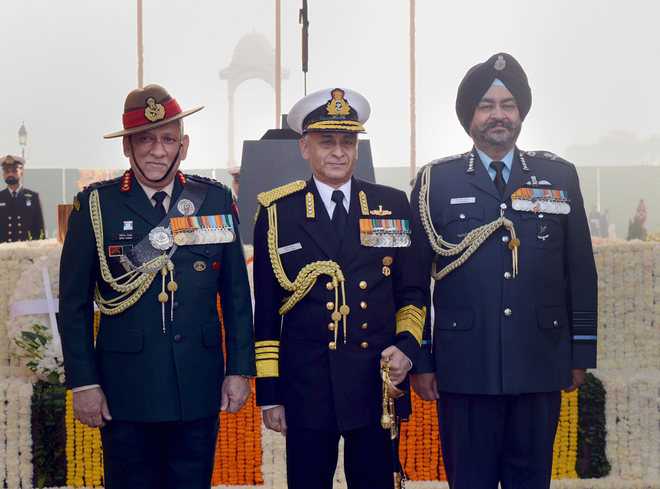 (L-R) Army Chief Gen Bipin Rawat, Navy Chief Admiral Sunil Lanba and Air Force Chief Air Chief Marshal BS Dhanoa. File photo
Ajay Banerjee
Tribune News Service
Chandigarh, December 6
As the three-day Military Literature Festival kicks off in Chandigarh on Friday, a look at the literary interests of the three service chiefs shows they have diverse preferences, almost like the forces they command.
Army Chief Gen Bipin Rawat's favourite book is 'The Battle of Dien Bien Phu', which is based on the French-Vietnam war and was authored by Jules Roy (first published in 1963).
Navy Chief Admiral Sunil Lanba, currently the senior-most military commander, marks 'The Cruel Sea' as his favourite book. It is based on a British naval fleet in the North Atlantic during the World War-II (1939-45) and was authored by Nicholas Monsarrat (first printed in 1951).
IAF Chief Air Chief Marshal BS Dhanoa's preference is more recent, the 2016 released 'India's Wars: A Military History, 1947-71', authored by Air Vice Marshal Arjun Subramaniam (retd). The author was a fighter jet pilot, so is the IAF Chief. The book is detailed and has insider viewpoint and provides some lessons for military planners. A Ph.D in Defence and Strategic Studies from the University of Madras, the Air Vice Marshal is said to be researching for a sequel to his book and will cover the 1972-2015 period.
Monsarrat served in the Royal British Navy during WW-II and rose to the rank of Lt Commander. He served on warships in the North Atlantic. His book is a portrayal of ordinary men learning to fight and survive in a battle with German U-boats (submarines). The book went on to be made into a movie by the same name in 1953.
'The Battle of Dien Bien Phu' is considered a decisive battle. The Vietnamese rebels led by Ho Chi Minh fought against the French and attacked their garrison, something considered as turning point in the first Indo-China War (1946–54). The term Indo-China was used for former French colonies Vietnam, Cambodia and Laos.
After WW-II, French forces tried to re-occupy the area and camped at Dien Bien Phu valley in late 1953. Vietnamese commander Vo Nguyen Giap amassed troops and placed heavy artillery in caves of the mountains overlooking the French camp. Boosted by some Chinese help, Giap mounted assaults, eliminating use of the French airfield. The Vietnamese forces overran the base, which led to the signing of the Geneva Accords of 1954.