Dear Veteran,
There have been many queries  on media reports about the Indian Ex Servicemen Movement (IESM) joining the proposed rally of farmers and Dalits on 

9 Aug

 in Delhi. 
A message was circulated by Maj Gen Satbir and his chamchas to support the Dalit and farmers  Rally. 
Gen Satbir is all out to project himself a leader of farmers and Dalits now ,as he has lost 90% support from veterans except his loyal gunners.
His adamant attitude in  carrying  on JM agitation has caused tremendous damage to the respectability of Veterans.
Now again he wants himself  at the central stage and use veteran as his  ladder and support him  as committed by him  alone to the other agitation leaders.
An opportunity he will  never like to miss the  to speak at  Rally  as he is found of hearing his own  voice .
*

He is no ones man* .

A selfish General Indian Army as ever  produced .
He has Yet to give accountability of donations collected by him amounting  in crores at JM. 
He is making ESM to spend from their pockets time and  again to reach Delhi.
Why should ESM support Rally? . Did anybody  Dalit or farmers supported OROP?. 
Satbir wants to be at central stage  again .A general who can not visualise beyond his own nose. He is responsible  for  defragmentation of  UFESM, in order to grab daily  collection at Jantar Mantar  donations to himself. In evening he used to collect all cash and Cheques in his car without announcing how much was the collection
He  has let down the entire community of  ESM, who were ultimately treated badly at JM but our good so called leader never came near JM after the Cane Charge of senior Veteran.
It is clarified that the IESM as an organisation is NOT joining the event but Satbir projects himself as chairman.
However All India Brotherhood headed by Brig Harwant Singh has also gone political .  The organisation is supporting and attending though have only 20 members in all.They  have collected funds too.
  All will be surprised to know that the RALLY is supported by mother of ruling party. 
Gen Satbir will never joins without vested interest. He will be one of the leaders to negotiate with any BJP leader coming to rally venue.
 Till date  he has been denied meetings by all Minsters.
 Now Looking for Rajiya Sabha seat and All India Brotherhood has discussed in their monthly meeting at Pragon School Mohali 

on Saturday

.
Veterans should not get trapped to support Rally as it is not related or concerning  OROP.
  The news item is  apparently based on inputs from a handful of veteran protesters who neither represent the IESM nor the veterans' community in general as checked from Lt Gen Raj Kadiyan and said *Irrespective of our individual sympathy and solidarity with social causes* *collective participation in such events is not in keeping with the culture that we imbibed while in uniform, or the legacy we inherited from our elders*.
 *We have always maintained that Veterans* *have a distinct identity* *and expect to be treated so by the   society* 
Let us exhibit that distinctiveness in our actions and in our behavior.   
Let us be deserving of the love and respect the country gives us. Hope Gen Satbir  will understand that his loyalty towards BJP at fag end will not get him Rajiya sabha seat. This is no way to comeback. 
Till  date Satbir never sat even on One day huger strike what to say Fast unto death fast. He made use of subordinates and ladies with false praises to built his own image.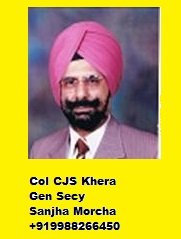 Col CJS Khera
Ex Media advisor of UFESM
*Food for thought for Maj Gen Satbir JM Expert from a well known Veteran*
Dear Gen Satbir Sir,
I am communicating with you directly as I hold you in extremely high regard for having led the OROP crusade with great grit and determination due to which the Government issued notification on 07 Nov 2015 though with some major shortcomings that need to be resolved by negotiations with the Government. The former RM Shri Manohar Parikar had communicated to you in a meeting which you attended with other ESM Organisations / functionaries. Mr Manohar Parikar had advised you to call off agitation and assured that he would examine anomalies raised. Thus MOD constituted a One Man Judicial Commission (OMJC) under chairmanship of Justice L Narasimha Reddy. I am sure you would have submitted anomalies and recommendations to resolve the anomalies to OMJC. I too presented our bit on behalf of ESM and Family Pensioners of Madhya Pradesh and Chhattisgarh to Justice L Narasimha Reddy on 20 Sep 2016. I also had an opportunity to discuss in detail many issues with Chairman OMJC in the presence of 7 CPC reps of the three Services and Lt Gen Milan Naidu PVSM AVSM YSM former Vice Chief. Chairman OMJC was most receptive and also agreed to most points put forth by us. In fact it has been gathered that Chairman OMJC has gone beyond the terms of reference and made very positive recommendations in the OMJC Report submitted to the MOD. 
I have requested you number of times earlier to stop agitational approach and make conditions amenable for the Government to invite you for discussions along with other ESMs but you have been very dogmatic about it for reasons best known to you. Personally I have great regards for you and that still remains despite having view point totally contrary to yours. We have been exchanging our comments on Facebook. I thought it better to write this message directly addressed to you with a hope that some good sense will prevails upon you to shun agitational approach even now. It is better late than never. 
It is surprising that you have still not realised that in politics alliances are a matter of selfish interests – you aligned with Opponents of BJP / NDA in Bihar Elections and what happened thereafter? – JD(U) joined hands with BJP breaking away from poll partners. What is going on now – it has been reported that KCR the convener of Maha-Ghatbandhan against BJP for 2019 Polls is cosying up with BJP. So if we get into vote bank politics and play victim we will remain be exploited and used as cannon fodder. Is any Political Party sincere about solving problem of Dalits, Kissan or Minorities? Our problem can only be solved by the Government that too through the Serving heirarchy period. So please for heaven's sake joining mainstream is in larger interest. You are yet to come out clean on allegations of financial impropriety against your IESM team. I don't understand as to what is the hitch in making IESM account details public or transparent? Although I hope not but just in case you are implicated or charged your closest aids or supporters will ditch you to fend for yourself. Your *Cheerleaders* on social media most of whom do not show their physical presence in your agitation group will never back you up then. What happened to Wg Cdr CK Sharma who was ditched you by you and others of IESM when he was arrested. His daughter had to fend for herself and my Coursemate Tej from Gurgaon along with other good Samaritans from our fraternity bailed Wg Cdr CK Sharma out. Whether it is BJP or grand old Congress both are known for their Political vendetta. If the likes of Chidambram can be targeted so can anyone else. As your well-wisher and a (younger) brother at arms would never like or want you to be a victim of vendetta politics. Please give it a cool thought. 
I once again advise you to give up agitation and stop being used by Opposition parties against Ruling Dispensation. The earlier you do it the earlier the environment will become conducive to negotiate with a position of strength.
I had put this point of mine on Facebook to which you have reacted with conditions and insisted that you are going to go ahead with your Andolan on 

09 Aug 2018

 to pledge your support and club *JAWANS with KISSANS and DALITS ANDOLAN*.
There are still five days to go – Give it a *Cool Thought* please.
With warm regards,
Yours truly,
Brig R Vinayak, VSM
*Additional in response to Say it Chat*
*Maj Gen Satbir Singh's Reaction to my advise on Facebook*
Friends,
Some of you are suggesting
that we should talk to the Govt.For the info of all,we have written numerous 
letters uo PM requesting for a Meeting which have not even been acknowledged leave alone
granting Meeting.Letters to RM also drew same outcome.If any one of you who are suggesting this option can assist in arranging the Meeting,we will follow it.Lifting of Agitation is not advised till such time Actual OROP is implemented.During Rally on 

20th May

 held at Delhi 
Parliament Street, it was 
unanimously decided that 
we will use the POWER OF VOTES to accomplish our Aim of Welfare of Def Fraternity,implementation
of Actual OROP.Govt in its reply in SC in our OROP Case has stated that it will not reconsider its Policy on OROP.Is this not an apathetic attitude of the Govt towards Soldiers?
OMJC Report has neither been made Public nor implemented.ESM RALLY on 

09th Aug

 WILL BE
HELD AS PLANNED AT JANTAR MANTAR.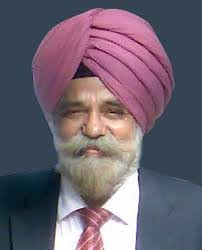 Regards Maj Gen Satbir Singh SM .
Vateran Vinayak Ramnarayan,
I wanted to close discussion with you but this 
long write up by you which i feel is totally subjective has compelled me to write back.You are senior enough
an offr who should understand and write with maturity.What financial wrong you are talking of?
Friend,none of us will give a paise to any one if he or she thinks the same will be
misused.Every paise contributed by well wishers
of the Protest Movement has been properly accounted for and audited.
Account Statement was daily written on the Board at the Protest site at Jantar Mantar for every one to see.Winco CK was illtreated
not because of any wrong doings but by the power hungry and arrogant people in power and connivance of some JaiChand ESM.We have informed every ESM to visit the Office and see the accounts for any querry.
Friends,the Movement couldnot have run for 1148 days and still continuing if the Management was wrong doers.Please for Godsake;donot mislead 
perceptions of the people.
A very honest and purposeful Protest Movement is being executed for the RESTORATION OF RESPECT,JUSTICE AND STATUS OF SOLDIERS WHICH EXISTED AS ON 15AUG 1947.Making such
false,concocted and unsubstantiated statements,to say the least,
doesnot behove a matured 
and senior person like you.
  You are welcome and visit Our office and satisfy your querries if any.
Let me tell you,welfare of
Soldiers is the ONLY CAUSE FOR OUR PROTEST MOVEMENT.IT IS NOT BJP OR CONGRESS.WE supported BJP in 2014 because the then BJP PM CANDIDATE ASSURED SOLDIERS THAT OROP WILL BE IMPLEMENTED 

WITHIN 100 DAYS

 AFTER COMING TO POWER BUT
YOU KNOW HE HAS BETRAYED THE FAITH OF SOLDIERS BY NOT IMPLEMENTING ACTUAL OROP. The only way left with us to get the issues raised and discussed in Parliament is by the Opposition ie Congress.That is what being done.Defence Forces have been Downgraded Degraded Illtreated and Mistreated for the past 70 years.We need to UNITE AND STRUGGLE TO GET JUSTICE FOR SOLDIERS.
Regards Maj Gen Satbir Singh SM
*My Response to Maj Gen Satbir Singh's above remarks* 
Gen Satbir Singh  I am glad you are trying to justify. Writing on the board is not the way to clear your self. Why don't you put it on emails or social media like you send other notices of your agitation. Most of your cheerleaders can also see it as they have not physically visited you at JM.
General have ever tried to even imagine if the agitation that you or your cheerleaders champion percolates to the serving? If those who are advocating or even those with inner feelings supportive of Maj Gen Satbir's action post OROP being notified just sit back and visualise damage that can be caused if serving get carried away by such thoughts and feelings? They are only abetting or inciting mutiny in the Armed Forces and as a fallout disintegration of our Great Nation. So dear Sir, Jaichands are those who betray the Nation.
Maj Gen Satbir Singh please don't live in a fools paradise and get carried away with you keyboard warriors alias cheerleaders. Here is a conversation floating on social media for your consumption as follows:-
Quote (.)
[8/6, 21:37] xxxxxxx: All the apprehensions voiced by ESMs of this group as we'll as othe

r groups were discussed by myself the day I got the wind of what was afoot , but it seems General Satbir Singh has made it an ego issue and wants others to join his fight . In fact , right from the moment when Parikar announced OROP sanction Gen Sab has taken rather intransigent approach which has resulted in closing of all doors for discussions . At that time also I had advised him to be little more flexible but in vain ! I have apprised the General again as we'll as his core group about the pitfalls but I am not sure of the outcome !
If General wants to go ahead with his plan of joint approach then he will cause irrepresble damage to the Cause of ESMs , and in such an eventuality I would much rather withdraw from his group rather than be ridiculed by media and political forces !
[8/6, 21:37] xxxxxx: May I request all to read two articles in TOI today . In the editorial page the article says that amongst other demands they will demand release of the BHIM ARMY leaders arrested under National Security Act ( N S A ). Imagine Ex Army men demanding release of BHIM ARMY guys who are arrested officially and duly as they threatened national security and caused death and destruction .
This is only the beginning.There will be more horrible slogans from them as they stage protest along with us, sitting by our side . OROP issue may get heavily cluttered by those . That will not bother them, only we will have to hide our face . Because Media by themselves and prompted by people with sinister motive will love to flash the slogans in the name of all the participants including Ex S M s . 
"" Army men demand release of Bhim Army men "" . Just imagine .
Sent from my iPad
[8/6, 21:40] xxxxx: These are the reactions of two Air Mshls towards Gen Satbir's decision recd from another gp.
Unquote (.)
Please introspect and also hear other view points. If you continue to get carried away by your cheerleaders it will be at your peril. 
Jai Hind.
With warm regards,
Brig R Vinayak, VSM