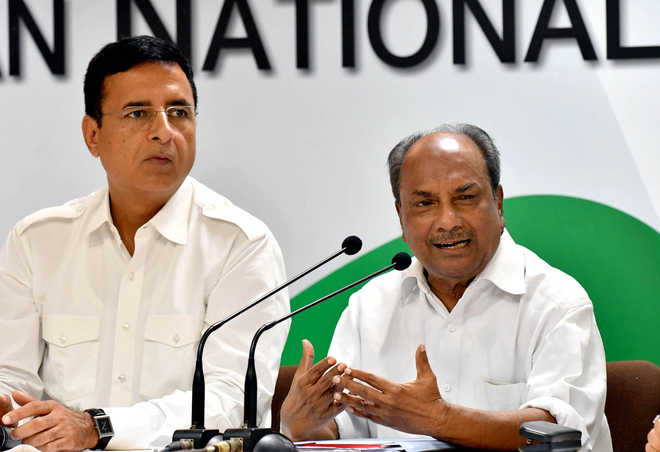 Aditi Tandon
Tribune News Service
New Delhi, September 18
Former Defence Minister AK Antony on Tuesday reiterated the Congress demand for a Joint Parliamentary Committee probe in the Rafale jet deal and accused Defence Minister Nirmala Sitharaman of leveling false allegations on him in the matter.
Antony said the BJP Government had jeopardised national security by being unable to procure the Rafale aircraft in time despite citing emergency purchase for the April 10, 2015 direct deal with the French Government.
He also said Sitharaman had tarnished the reputation of Hindustan Aeronautics Limited nationally and internationally by saying it did not have the ability to manufacture 108 Rafale jets in India.
On Sitharaman's previous charge that Antony had delayed the procurement of the jets despite the deal being ready in UPA times, the former Defence Minister said the accusation was "unfair".
"The Finance Ministry at the time had objections to the life cycle cost approach concept, which was new and I told them to take the matter to the Cabinet Committee on Security. A senior BJP member also wrote to me at the time and I as minister acted with responsibility by referring the issue to the CCS," Antony said at a press conference today.
He accused Nirmala Sitharaman of suppression of facts and said BJP's claim that 36 jets negotiated with the French government in 2015 were cheaper was false.
"If the deal was indeed cheaper why did the BJP Government not negotiate for all 126 aircraft and why only 36?" asked Antony.
He then said the Modi Government had claimed emergency purchased as the reason behind scrapping the UPA time deal and negotiating a new deal.
"The first aircraft will be delivered by September 2019 and the 36 jets by September 2020. All the 126 aircraft are not arriving before 2030. So where is the urgency clause now?" Antony asked.
He also accused the Government of undermining the prestige of HAL by saying it cannot make the aircraft in India.
"If there is any firm that can make the aircraft it is HAL," Antony said.
Asked by The Tribune whether the Congress planned to move the Central Vigilance Commission against the Rafle deal, Antony said the first demand of the party was the JPC.
The Congress added that at an appropriate time it will also petition the CVC and CAG to fulfill their "constitutional obligation of looking into the Rafale deal on their own".