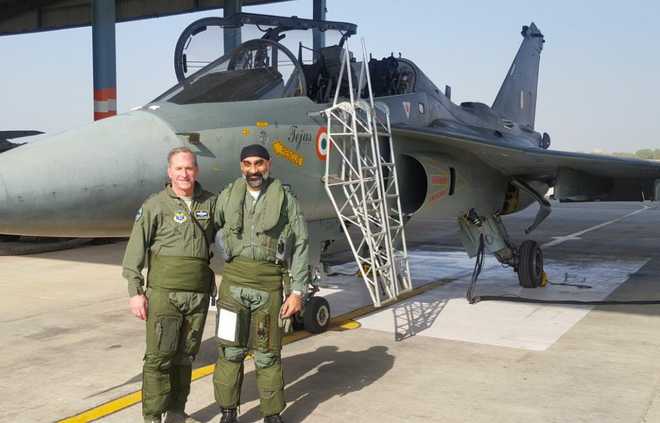 India's indigenous Light Combat Aircraft, the Tejas. Twitter: IAF
Jodhpur, February 3
The Chief of Staff of the US Air Force, General David L Goldfein, on Saturday flew India's indigenous light combat aircraft 'Tejas' at the air force station here.
(Follow The Tribune on Facebook; and Twitter @thetribunechd)
Goldfein, who arrived here on Friday, was accompanied by Air Vice Marshal A P Singh as co-pilot during the sortie, defence officials said.
"General David L Goldfein, Chief of Staff of the US Air Force, is on an official visit to India. He flew a sortie in '#MadeinIndia' LCA Tejas aircraft at AF Stn Jodhpur today," the IAF said on Twitter
Goldfein yesterday interacted with the airmen and pilots at the station.
"His visit was a gesture of mutual cooperation between the Indian and the US air forces, both of which are considered the best in the world," the official said.
Earlier, General Goldfein had stressed on the "strong relationship" between the two air forces.
"We look forward to deepening the relationship between our two air forces," he said in his posts on Twitter and Facebook.
The first squadron of Tejas was inducted into the IAF in July 2016. PTI
Jodhpur: US Air Force Chief General David L Goldfein flew a sortie in indigenous Light Combat Aircraft Tejas on Saturday at the IAF station in Jodhpur. Goldfein arrived in India on Thursday, on a visit to boost defence ties between the two nations. In November last year, the Defence Minister of Singapore Ng Eng Hen was flown in a Tejas fighter jet. Produced by Hindustan Aeronautics Limited, Tejas can fly at 1,350 km per hour. IANSKer Speaker in eye of storm over Rs 50k glasses       Thiruvananthapuram: A controversy has erupted over Kerala Assembly Speaker P Sreeramakrishnan purchasing a pair of spectacles for nearly Rs 50,000 and getting the amount reimbursed from the cash-starved state exchequer. Replying to an RTI query, the Secretariat stated that the Speaker spent Rs 49,900 for spectacles — Rs 4,900 for the frame and Rs 45,000 for the lens. The Speaker said the purchase was made on doctor's advice. PTIPanchgani among cleanest, Aamir elated        Mumbai: Actor Aamir Khan says he is proud that Panchgani, where he got married to Kiran Rao in 2005, has been named as one of the country's cleanest towns. "I am very proud that my town Panchgani has been selected as one of the cleanest towns in India, winning three district honours: Open defecation free city, Swachh city and Best Municipal Council in the state. My gratitude to local leadership, administration, and my fellow citizens," he tweeted. IANS