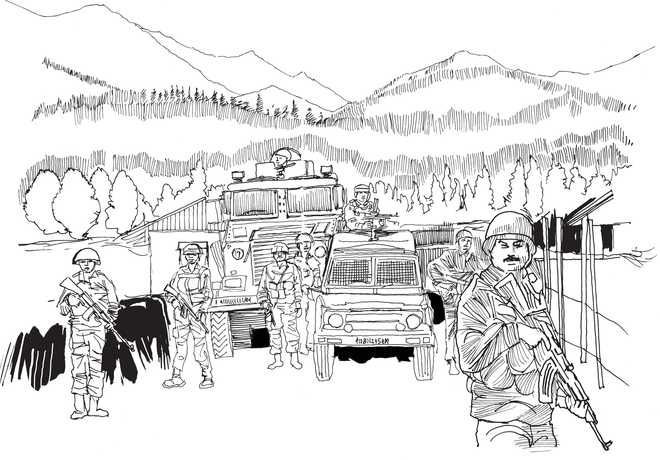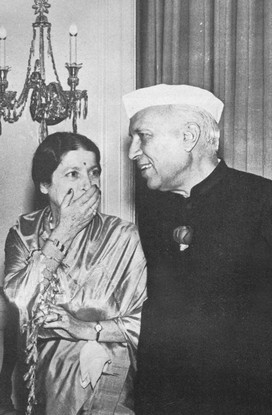 THE fauji biradari is seething with unhappiness. And perhaps for good reason. A single video from Kashmir has tarnished the Army's image. Every professional officer knows that the photograph of a Kashmiri tied to a Jeep as a human shield has not added lustre to the Army's prestige. Not only abroad, but even at home, sensibilities have been offended.
Our armed forces take a legitimate pride in being a disciplined, apolitical, secular and professional organisation. Our armed forces' self-image is one of a morally superior wing of the Indian State, whose members bravely and unquestioningly make the ultimate sacrifice in defence of the motherland. Our Army is admired all over the world for having so uncomplainingly socialised itself in the ethos of democratic constraints and civilian supremacy.
All professional officers who have had any experience of Kashmir's volatile landscape can understand the urgent and the unpleasant choices that young Major Gogoi faced. Yet, somehow that 'human shield' has disturbed the peace of mind. Maybe, it is a realisation that use of force and violence has a brutalising impact on everyone. I suspect that behind this seething anger is something deeper. It is a sense of being let down and being used by the calculating politician.For some time now, this country had been led to believe that most of our national security troubles have remained unresolved because over the decades we have had weak, vacillating, pusillanimous rulers who were afraid to use the available force. A sizeable section of the fauji biradari also began subscribing to this view. Some scheming generals — the VK Singhs — began getting ambitious. Now the sensible and intelligent professionals among the fauji biradari are beginning to understand that a group of politicians has, in fact, used the armed forces to build itself up. The faujis, serving or retired, could not have helped notice how 'surgical strikes' got worked into the partisan electoral rhetoric in Uttar Pradesh; worse, the "Chief" was made a talking point in the Uttarakhand election. There is an unsettling realisation that the fauj is being used to cover up the politician's failure — or worse, his mendacity.Since May 2014, we have not had a substantive Defence Minister. For the first six months, Finance Minister Arun Jaitley was asked to look after the Raksha Mantralaya. Then, there was the inconsequential Manohar Parrikar, a provincial man, utterly unequal to the task, who at the first opportunity, was happy to play again in the provincial league in Goa. And now, once again, Arun Jaitley finds himself saddled with the additional charge. He is an extremely intelligent and extremely hard-working man, but no country in the world — certainly not a country of our size and our security problems — can do without a fulltime Raksha Mantri. And, the senior army officers cannot be faulted for discerning the grand confusion on the Raisina Hills. Nor can they be faulted for not being very comfortable with all the inputs flowing from extra-constitutional sources on how "Kashmir" and "Kashmiris" have to be sorted out. Beginning with General S Padmanabhan, practically every Army Chief has suggested that it was up to the politicians and the diplomats to find a way out of our problems with our neighbours. Political failure in Srinagar, Jammu and Delhi is all too blatant. A few days ago, (Tuesday, April 25), Lt-General Subrata Saha (retd), who was the Corps Commander, Srinagar, (2014-15) had penned a very thoughtful piece, detailing this political failure and its deleterious consequences. Yet, our clever politicians have cunningly manufactured an ultra-nationalist discourse. The incompetent and corrupt politicians in Srinagar and Jammu have performed in perfect jugalbundi with the scheming crowd in New Delhi.An unhappy realisation is dawning on the fauji biradari: the mendacious politicians in Delhi would continue to use the sacrifice and the blood of the soldiers to accumulate more and more power. This is a painful and unsettling realisation. 
************
ON the last page of The Tribune today, Mr Gopal Gandhi has drawn a very fine portrait of Mrs Shoba Nehru. With his characteristic sensitivity, he has brought out the richness of Fori Nehru's personality. I met her last in the first week of February, 2016. Along with some of the Trustees of The Tribune, I had gone to her house in Chandigarh to honour her as our oldest reader.And, what a powerful impression she left on me. As it happened, a few days earlier, I had written in these columns on "Why the Mahatma had to be killed." She seemed to have read that short piece and complimented me for reminding everyone that an assassination had taken place. In turn, I asked her whether she remembered where she was and what she was doing when Nathuram Godse fired those shots at the Mahatma. Indeed, she remembered. And then, for the next fifteen minutes, she proceeded to fill me in with minute details of the scene at Birla House. She and her husband had been asked by Pandit Nehru to look after the foreign dignitaries arriving to pay their homage to the Mahatma. It was a marvel; here was this lady, over 100 years old, recalling so vividly, on the spur of the moment, an event that took place sixty years earlier. In her younger days, she must have made a remarkable companion to her equally redoubtable husband.Anyone who reads BK Nehru's autobiography Nice Guys Finish Second cannot fail to get the flavour of the difference Fori made to her husband's successful career. The Nehrus' years in Washington as Ambassador, during the Kennedy and the Johnson years, were probably the finest years of Indian diplomacy. The Nehrus had charmed the Kennedys. Imagine the President of the United States inviting the Nehrus to a private dinner upstairs in the White House. Probably, the first and the last time such a gesture was made to an Indian ambassador in Washington.And then, there was President Johnson coming to the Ambassador's residence for a chat with Prime Minister Indira Gandhi and staying (unscheduled) for dinner. With Fori at his side, Ambassador Nehru spontaneously managed to convert the evening into a grand success. And, truth is that the Indian ambassadors were allowed only a paltry entertainment fund. No matter. Writes Ambassador Nehru with satisfaction: "But the Indian ambassador and his wife had no shortage of good manners, good taste, good food, good wine, and above all, sophistication, elegance and style, which was what was really valued." Touche!
************
LAST Tuesday, there was this function at the UT Guest House in Chandigarh to launch PPS Gill's new book, Blood on the Green — Punjab's Tryst with Terror. Punjab Finance Minister Manpreet Badal was the chief guest and he lived up to his reputation as an erudite speaker.The book makes an interesting read, forcing the reader to not only recall that Punjab had gone through a harrowing time but also make him wonder whether the political and bureaucratic elites had learnt any healthy lesson from the blunders and stupidities of an earlier generation. The book is also a reminder of the enormous risks and dangers to which the journalistic fraternity was subjected during those days — by the terrorists with guns and by the security agencies, both determined to control the narrative. PPS Gill was reporting for The Tribune from Amritsar and it probably was the best — and, also the most dangerous — assignment any reporter could ask for. And Gill sahib acquitted himself very honourably. What I found so gratifying at this book launch was that so many fellow journalists had put in an appearance. This, indeed, was an indication of the high esteem in which PPS Gill is held. It was also a reassuring expression of professional solidarity.
************