Dinesh Kumar
It has been raining accidents, casualties and court martial in the Navy. In the last ten-and-a-half years alone, there have been at least 65 mishaps of various kinds involving the Navy's surface, sub surface and air fleet.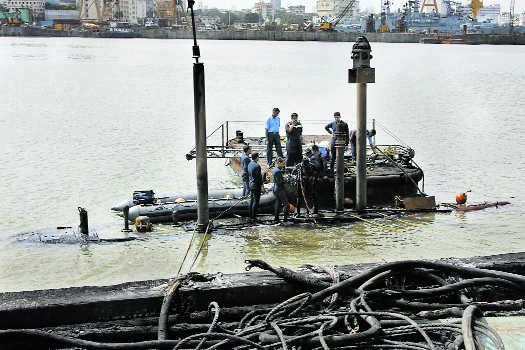 Already plagued by delays in fresh inductions to replace an ageing fleet of ships, submarines and aircraft, the Indian Navy, cited as the world's seventh largest, continues to be regularly afflicted by accidents on a scale otherwise unprecedented in India's post-Independence history. In the latest incident, a sailor along with a civilian worker died on June 10 following a toxic gas leak on board India's 34-year old Soviet-origin aircraft carrier, the INS Vikramditya, inducted in June 2014. This is the fourth known incident so far this year which, combined, has claimed the lives of four Navy men and one civilian. In March, a sailor was killed battling a fire and steam leak on board the navy's second aircraft carrier, INS Viraat, a 56-year-old British-origin carrier that is expected to be decommissioned this year. This was followed soon after with the death of two officers, including a lady pilot, when a German-origin Dornier-228 aircraft crashed at sea. Then, in April, a sailor lost his leg while two more were injured in an oxygen cylinder blast aboard INS Nireekshak, a diving support vehicle. 
Human & material failure
It has, in fact, been raining accidents, casualties and court martial in the Navy. In the last 10-and-a-half years alone (December 2005 till date), there have been at least 65 mishaps of various kinds involving the Navy's surface, sub surface and air fleet that have resulted in the death of at least 37 navy personnel including officers; the loss of four vessels, including a submarine; the loss of at least nine aircraft, including two unmanned aerial vehicles; and disciplinary action against at least as many as 148 navy personnel (112 officers and 36 sailors) as of March 2015.This has included dismissals and divesting captains of command. Inquiries have either been just concluded or are continuing in about 10 cases, which are expected to increase the figure of those court martialled. The accidents, attributed mainly to either human error or material failure, have ranged from grounding of ships and damage to their propellers and sonars to on board gas leaks, fires, collisions, explosions, sinking of vessels and air crashes. There have been at least a dozen incidents of collisions at sea and in the harbour area, eight incidents of grounding or of vessels touching the sea bottom and 11 incidents of fire in addition to vessel and aircraft loss during this period.The worst incident in India's post-Independence naval history has been the horrific sinking of INS Sindhurakshak, a Russian-origin submarine, following a series of explosions in its torpedo compartment in the wee hours of August 14, 2013 making it the first post-World War-II peace time sinking of a submarine while docked in harbour. Three officers and 15 sailors were killed in the tragedy. Three other vessels that have sunk during this period are INS Prahar, a Corvette, after colliding with a merchant vessel off the coast of Goa (the commanding officer was dismissed from service) on April 22, 2006, INS Vindhyagiri, a frigate, which capsized following a collision with a merchant vessel near Mumbai harbour on January 30, 2011 and a Torpedo Recovery Vessel (TRV-72) which sank near Vishakapatnam in November 2014, killing one sailor while four went missing. Earlier, on August 20, 1990, INS Andaman, a patrol boat, sank due to material failure in the Bay of Bengal. In all, the Navy has lost five vessels during "peace time"— in contrast to only one vessel, INS Khukhri, lost in a war (the 1971Indo-Pak war).The accidents have not been without its impact at the highest levels of the Navy. Admiral Devendra Kumar Joshi resigned as the Chief of Naval Staff on February 26, 2014, just six months after the sinking of INS Sindhurakshak, following a fire on board another Russian-origin submarine, the INS Sindhuratna, that claimed the lives of two officers. Much later, Admiral Joshi,who became the first Service chief to resign and demit office in post-Independence India's history, was to comment on the questionable higher defence-management system in the country, an issue on which every Service chief has either privately or publicly commented."The root cause", Admiral Joshi, a distinguished submariner, tellingly remarked, "is this dysfunctional and inefficient business model that we have…While professional competence, accountability and responsibility is with the Service, this is not the case with authority…For example, when it comes to charging submarine batteries, which are available indigenously, or commencing refits and repairs of ships, aircraft, submarines in Indian yards, the Service (Navy) does not have that empowerment…Where there is authority, there is no responsibility. And where there is responsibility, there is no authority."
Standard operating procedures
For 50 days after Admiral Joshi's resignation, the Indian Navy functioned on an ad hoc basis with the Navy's then Vice-Chief, Vice Admiral Rabinder Kumar Dhowan, officiating as the Navy's Chief before being confirmed to the post. In the process, Vice Admiral Shekhar Sinha, the then senior-most officer, was superseded as most accidents had occurred in the latter's jurisdiction of command (the Western Naval Command). Interestingly, Admiral Dhowan was appointed to the top post without his ever having earlier commanded even a Fleet let alone an operational command,setting a questionable precedent. Although the Navy has established a series of standard operating procedures and inspection-and-monitoring mechanisms, it is obvious that it has not had the desired effect. The Navy, which is losing men in accidents and in disciplining officers, is already suffering a 14.5 per cent officer shortfall of 1,578 and a 17 per cent sailor shortfall of 11,110. Training is a major area for concern as successive accident inquiries have revealed. But there are some areas which are outside the Navy's domain. For example, the maritime environment comprising congestion in harbour areas which are part cause for collisions; delays in building naval bases far from congested areas; and material failures and the quality of repairs and overhauling on ageing ships and submarines in dockyards and shipyards. The responsibility has to be collective. Clearly, authority must involve responsibility and vice versa. 
dkumar@tribunemail.com